Game: Legend of the 3x 2x Phoenix
Manufacturer: IGT
Advantage Play Potential: Medium
What Makes it Special: Three persistent state free spin bonus accumulators at each level, which have to be awarded by the time each reaches 15 games.
Legend of the 3x 2x Phoenix is a rare physical reel game with a persistent state element, with a "Must Hit By" mechanism that treats free game accumulators like a progressive.
This is a unique and unusual element that creates some additional Advantage Play potential over other multiplier games like Buffalo Diamond or Farmville. So let's take a look at how this game works.
Understanding the Game
The game features a 25-line format on three physical reels, and has a 40 credit bet increment. I've seen some games where the minimum bet is 80 cents; in that format it's still the same as the others, just starting off with a 2x line multiplier.
It has 2x and 3x multipliers on the reels, working basically in line with IGT's classic Triple Double Diamond formula (and this game has a clone that is themed that way). You can as such get up to 9x multipliers with given symbols if they line up, or get three multipliers for even bigger prizes.
Free Spin Progressives
The game has persistent state free spin progressives, three per bet level, which can work as far up as 15 games, which is the "Must Hit By" number.
Flames will appear behind the numbers as they go past their average hit point, but like with other indicators it doesn't mean a bonus is "due."
Each bet level has its own persistent state set of free spin counters. A counter can increase on any given spin.
The counters are color coded by the multiplier awarded if triggered:
Red: 2x multiplier
Green: 5x mulipliter
Blue: 10x multiplier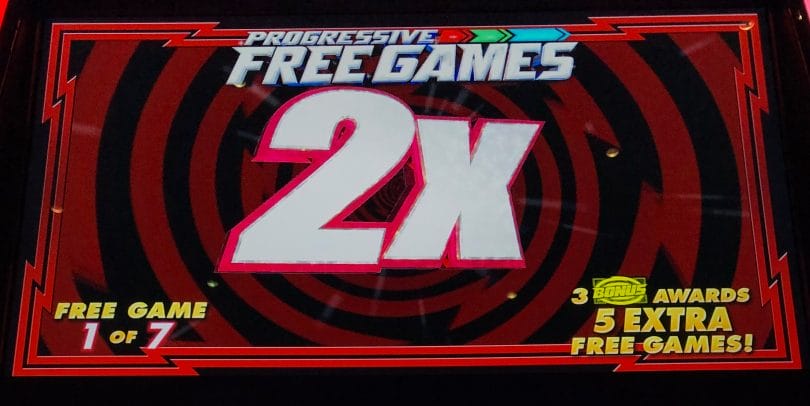 The multiplier, when the bonus is triggered, is the one that matches the color of the bonus symbols (which on each individual spin will always match). If you happen to increase a progressive to 15 and get a different free spins bonus on the same spin, you'll get two, back to back free games bonuses.
Once in the free spin bonus, you can retrigger; the bonus symbols stay yellow throughout the free spins, and a three bonus spin line-up adds five more free spins to the free spin counter (although there is a cap to the number of spins you can earn during this bonus).
Upon the completion of the free games, the counter resets.
Watch and Learn
Here's IGT's promotional video for the game:
RandomSlots played the game, and has pay table screenshots as usual: