WMS has been circling back around to some of their classic 3-reel licensed games and developing new sequels that push things forward. I recently wrote about Wizard of Oz: Emerald City, but one that predates that one is the Lord of the Rings: Rule Them All version.
Similar to Wizard of Oz, the latest Lord of the Rings slot machine adds a second symbol, an Eye of Sauron symbol, to go along with the Gold Rings previously used on the last edition.
To have both symbols active and awarding bonuses, you must be on the 150 credit or above bet level. The jump from 40 credits per level to 50 credit per level is what adds those features in, but it also forces a minimum bet of 150 credits, encouraging higher coin in.
Unlike Wizard of Oz, there are not mixed pays for getting three mixed symbols. Instead, the symbols can both appear on the same symbol or reel at one time, improving the chances of triggering a bonus.
Like other three-reel licensed games in the WMS/Scientific Games series, there are a ton of different features, some of which have overlap with the Wizard of Oz game as well.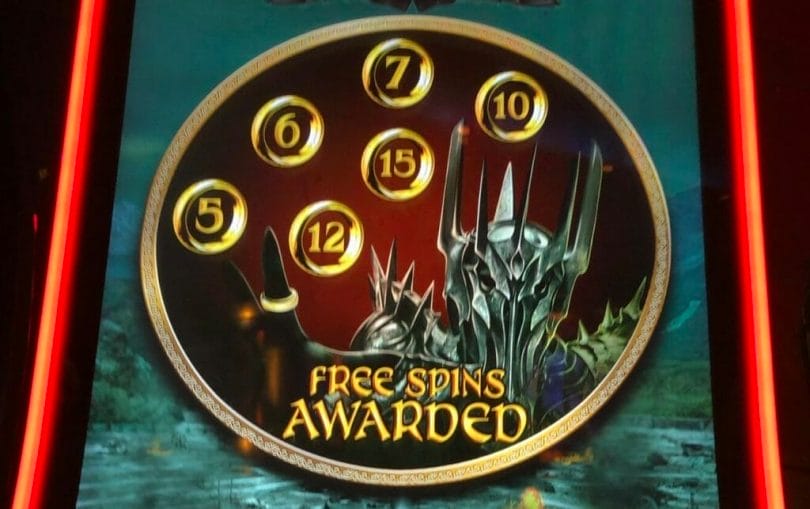 Ring Features
Frodo Free Spins: A free spin count is selected upfront, and then as symbols are collected additional features are awarded, standard for this sort of series. However, as ring collection counts are achieved and features played, more reels can unlock, enhancing the chances of line hits and bonuses with features using all reels available, as well as a special feature if the ring collection target is met three times.
Legolas Wilds: Arrows are fired at the reels making various spaces wild.
The Mines of Moria: Multiple reel sets get unlocked with wilds locked in place to improve the chances of a win.
Eowyn and the Witch-King: Spin Until You Win with a growing multiplier.
Arwen and Aragorn: A credit prize feature is won out of a set of options.
Eye of Sauron Features
Eye of Sauron Free Spins: This works just like the Frodo Free Spins, with symbol collection triggering a feature and then unlocking more reels. If you collect enough symbols through a series of rounds up to three reel sets, you can get a wheel spin.
Shelor Wilds: This time it is a spider that adds wilds to the reels.
Uruk-Hai: Multiple reel sets get unlocked with wilds locked in place to improve the chances of a win.
Balrog: A multiplier spin, with a multiplier up to 50x, but in this case there is no guarantee of a win.
Gollum: Another credit prize feature won from a set of choices.
So as you can see they have a very similar set of bonuses, but you get more chances for bonuses on the Eye of Sauron bet.
Watch and Learn
Here is a promotional video for the game from Scientific Games:
Here is a video from Slotlady featuring the game:
And here is a video from Slot Queen: