Everi has a wide variety of mechanical 3-reel slot machines that play with variations on a theme. Patriot Jackpots is a great example of one that's been around, and one I had fun playing during one of my casino trips earlier this year.
I played a quarter denomination, five-line version that maxed out at a quite reasonable $1.25 a spin. The game features five progressives, from one that starts at 20x all the way up to one that can clear a handpay at that bet level, albeit with the top symbols all on the fifth payline, a rarity for sure.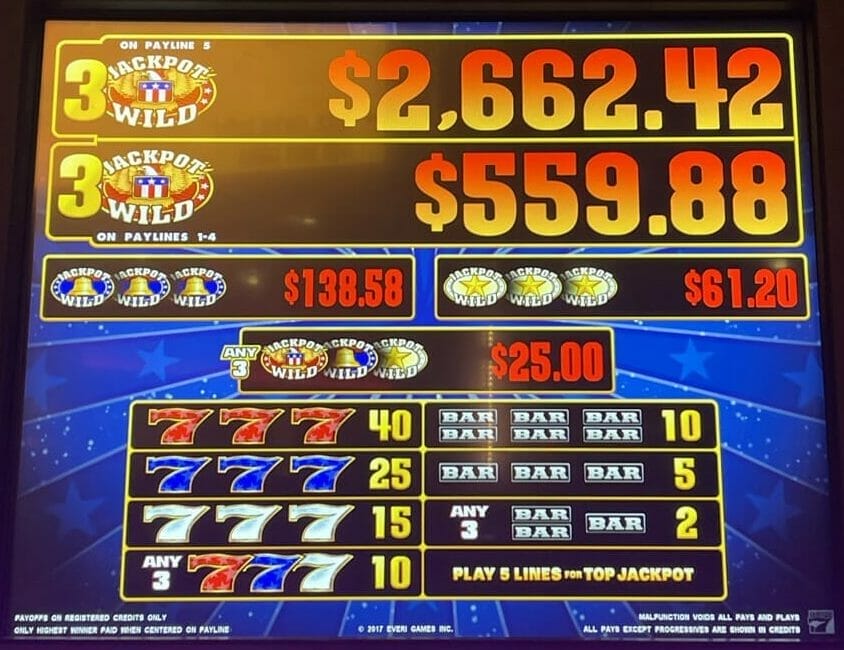 But despite that, you had mixed wilds, mixed 7s and mixed bars all able to pay, so the game wasn't particularly tough, and three wilds could yield a baby progressive that starts at that 20x mark, making the chance for progressives not out of reach either even in shorter sessions.
Indeed that's what I came across, with the ability to hit the lowest progressive (along with another line hit, since the wild lined up three single bars cleanly).
The other wrinkle this game brings in is some symbols have multipliers of 2x through 5x. Getting those will multiply the line hit when it appears in one. That can up the volatility, but it's offset by the mixed symbol pays.
When you add in the fact that three single bars is just your straight money back, lower than other mechanical reels games without those higher multipliers, they've balanced it out in that way.
Overall the game is fun, has some good potential, will tease the heck out of you with all those wild symbols and overall offer some good potential.
Patriot Jackpots Slot Videos
Tulalip Resort Casino shows off the game in one of their YouTube videos:
ShottyD Slots plays a session on the slot: