One of the most consistent aspects of volatility relates to increasing bet size. There are a variety of ways this is done. One is through raising the minimum bet, particularly on popular or licensed themes. Another is through releasing a slot sequel with new features that require a higher bet.
But one increasing way slot manufacturers are pushing up the bet is through extra bets. Extra bets take a variety of forms, which I'll go over a bet in this piece. But in all scenarios the goals is to encourage a higher bet, exposing money faster to the house advantage. In the process they amp up only one aspect of a game, meaning it can be even more feast or famine than just playing the base game.
Here are examples of extra bets, how they work and why this increases volatility.
More/Better Bonus Bets
I did an entire article on more/better bonus bets previously, but to summarize, a more/better bonus bet amps up the size and frequency of bonus features. They usually do so by charging a premium of 50 to 100 percent over the initial bet to boost the bonus feature.
The challenge is you pay for it every spin, regardless of whether you get a bonus. So you have to hope for a bonus to really get the full value of the bet, but when you do get the bonus they tend to give you a bigger opportunity to get a sizable win. The overall payback doesn't change, but meanwhile all the non-bonus spins, the line hits pay the same, even if you're betting more.
This game format is most common on WMS-designed games, and most are a 50 percent premium, but newer games like Zeus/Kronos Unleashed have three levels, with the third level increasing the bonus premium even more.
Jackpot Chance
Found on Konami games, the Jackpot Chance wager can add 10 or more credits to wager for the jackpot chance. There's multiple versions of this, including the Jackpot Streams feature (which has a coin pusher style interface), and the latest Konami games with feature a dragon that awards balls when the wheel spins and lands on a number.
Regardless of format, this is an additional wager, effectively a side bet, that's added to the base wager of standard Konami games. So this drives up the bet minimums since you must bet at least 10 credits per spin, and the payment for those additional wagers come completely from the feature.
So if the feature comes early and often, it can cover the cost and then some, but if it doesn't come out at all, it can be expensive over time, given that when you get up in credit count it can even exceed the minimum wager for the base game.
Bubble Boost and Similar Extra Bets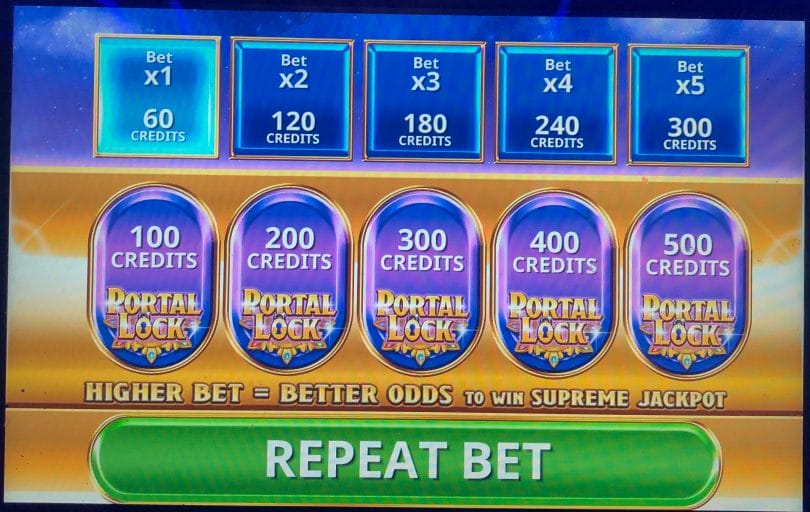 IGT's persistent state games have a two step bet scenario for a number of games, such as Ocean Magic, Dragon Sphere and Star Goddess, which unlike the others are designed to be a base game enhancement more than anything else.
You're paying more, and your line hits are still not enhanced, but you increase the chances to generate more pays. While this is still a volatility boost, they tend to come out a bit more frequently than waiting for a bonus or extra feature to trigger outright.
While IGT is most frequently the one who uses this model, the Gimmie Games/Aristocrat game Dragon Lanterns has a similar model.
Mighty Cash Additional Bets
Finally, another Gimmie Games creation, Mighty Cash, has versions where you can choose the credit bet for the Mighty Cash feature. Bet higher, and you're betting for bigger numbers when you trigger the Mighty Cash feature. But the line hits don't budge, so if you don't trigger it, the money can be consumed quickly.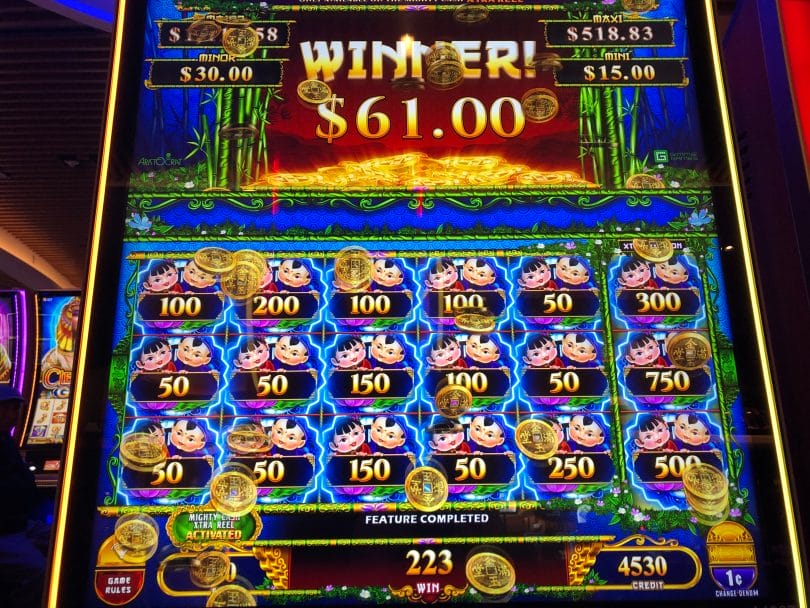 Not all versions have this, but other versions do have a bonus bet of their own. Mighty Cash Double Up lets you bet more to activate the double up feature, giving you two reel sets for the Mighty Cash feature, but only if you trigger it. (Like the WMS games, it's an extra 50 percent to activate.)
And seen above, Mighty Cash Xtra Reel has you double your bet for a sixth reel that can increase the chances of triggering a Mighty Cash bonus. In my session playing it in February, it did help the feature trigger a lot more often in that particular case (and I left with $100 after putting $20 in), but if you have a drought your money will deplete twice as quickly.
Know of any other Bonus Bet games we missed? Have a particular favorite? Share in the comments!