In my time exploring 3-reel mechanical slot machines, one of the games I've always enjoyed playing when spotting it is Strike it Rich Again, a classic IGT machine that's still out there.
The game has a few things going for it, the first of which is nugget multipliers that can crop out. The multipliers exist on each reel, and the middle reel has a stack of them that can land atop each other, a common practice on some IGT machines of that era and can amp up the pays depending on what lands around it.
Second, the game features bars and sevens (including a bar 7 symbol), that pays mixed, meaning it's not particularly hard to see line hits, keeping the game pretty active overall.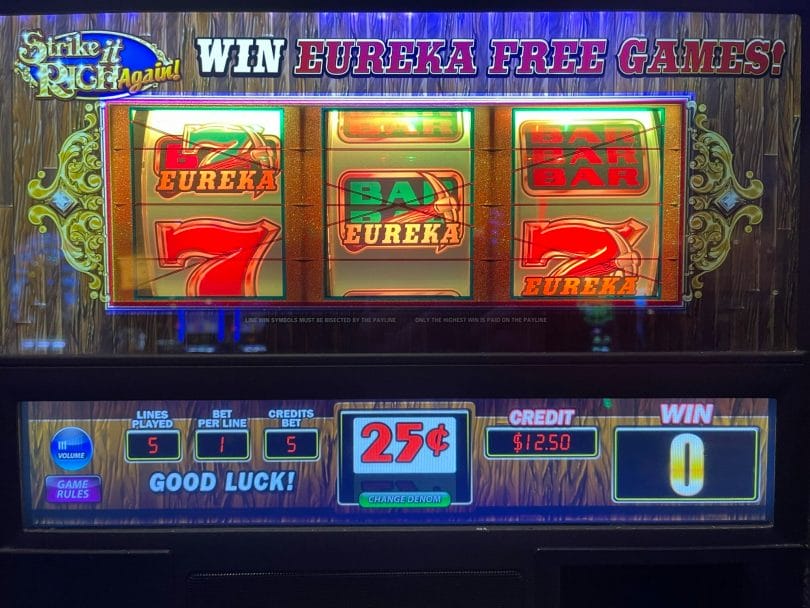 Finally, this is a mechanical reel game with a free spins bonus. In this case, the word Eureka appears on certain symbols, and if you get three scattered Eurekas, one on each reel, you'll get 10 free spins.
You can retrigger during the bonus, earning 10 additional free games for doing so. During the bonus the pays are doubled, making it easier to build up the wins as well.
The first time I played at $1 denomination and it ate my money pretty fast, but I've come to appreciate the game at quarters, where there's more time to make a bonus happen or get a good line hit, which has come with enough regularity for me to better appreciate the game.
But at any denomination, the potential is there and it can be quite an active machine between line hits and bonuses. It's one to look for in the older reels sections of the casino when you can.
Strike it Rich Again Slot Videos
Diana Evoni plays Strike it Rich Again at $1 denomination starting at 3:46 in this video:
Here's another bonus example from YouTube: