Like the Buffalo series, Timber Wolf has been a long-running theme of games by Aristocrat, and many times when their most popular titles get absorbed into various extensions (like Cash Express Luxury Line, just to name an example), the Timber Wolf theme is generally one of the options given.
After the success of Buffalo and Timber Wolf, both saw an extension with a Deluxe version. The Deluxe version bumps the bet increment from 40 credits to 50 credits, and offers a volatility choice with the multipliers as part of the free spin bonus.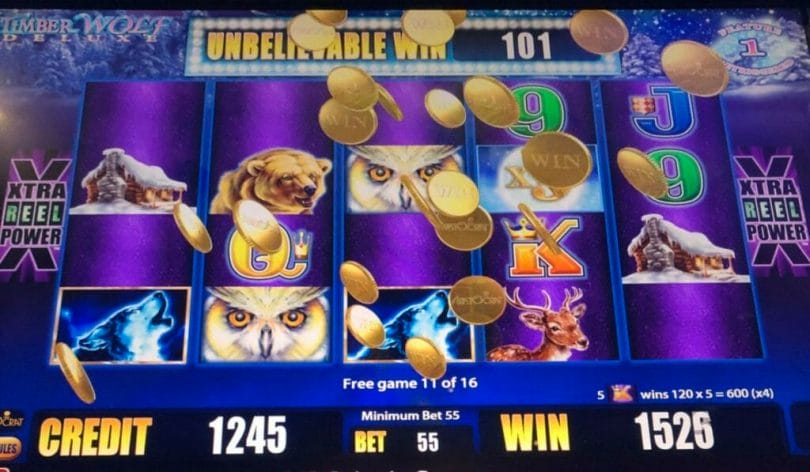 The free spin choices for Timber Wolf Deluxe are as follows:
21 free spins with 2x wild multiplier on reel 2 and 3x wild on reel 4
16 free spins with 2x wild multiplier on reel 2 and 5x wild on reel 4
12 free spins with 3x wild multiplier on reel 2 and 6x wild on reel 4
8 free spins with 4x wild multiplier on reel 2 and 8x wild on reel 4
6 free spins with 5x wild multiplier on reel 2 and 10x wild on reel 4
As you can see, up to 50x when the two multipliers combine is possible, but you don't get very many spins to make it happen, although you can retrigger (which itself is not easy).
The original Timber Wolf offered respin if your multipliers didn't line up with anything in the bonus; the deluxe version offers the potential for a second respin (albeit not guaranteed) which is the other main enhancement.
Otherwise it's still a volatile game. The higher multipliers make the potential higher, albeit at a higher bet, and the respins can help you lock in wins, as seen with a couple of 5x multiplier examples above.
A final note – the 55 credit screenshots above were taken on a machine with a 5 credit ante bet for a side feature for progressives, which was offered as an add-on to the game. The standard credit increment for the game is 50 credits.
Timber Wolf Deluxe Slot Videos
RandomSlots played the game, survived awhile, got a bonus and doubled up:
This video showcases a series of bonuses, culminating in a massive hit on the seventh bonus with an 18x multiplier: