Game: Cash Burst Force of Babylon
Manufacturer: Scientific Games
Advantage play potential: Low
What Makes it Special: Bubbles carry cash prizes, and can be added on any spin. When they land atop a Cash Burst symbol, you win the prize inside of it.
Previously I've talked about Ocean Magic and Firecano Freeze, games by two different manufacturers but with the same basic idea of orbs floating by on the reels and when they land atop a specific symbol, they trigger wilds.
Not to be a complete copycat, Scientific Games has launched the Cash Burst series. Their twist is instead of awarding wilds, they award cash prizes that are listed on the bubbles. The end result, at least to me, is underwhelming, although I got lucky during my personal play of the game. Let's go over how the game works.
Understanding the Game
The game is set up as a 5×4 reel set with 50 lines and 50 credit bet levels – pretty straightforward stuff. The pay table is remarkably simple – 8 base pay table symbols, mystery symbols in a stacked symbols configuration, and then you've got the Cash Burst symbol and the Babylon progressive symbol.
The pay table notes the chances of a symbol being replaced changes with bet option, so there may be more advantageous scenarios for higher betters, which would make sense particularly around the Babylon progressive symbol since you're probably more likely to get into the progressive pick with a higher wager.
There's also a listing of two mystery symbol substitutions, so stacks likely compete with each other to make line hits a bit harder to achieve. In reality, line hits came frequently enough that the game spits out small wins with some frequency.
Cash Burst Orbs
The Cash Burst series follows the lead of games like Ocean Magic and Firecano by having orbs appear on the screen on the spin of any base game. Orbs are specific to denomination and bet as a persistent state element; changing either of those will change the orbs displayed to what's on the reel set at that time.
Each orb has a prize attached to it. If an orb floats onto a space where a Cash Burst symbol lands, the player is instantly paid the prize on the orb. This is the key way this game differs from those other previously mentioned games.
Orbs' values can be from 2x-80x your bet, or have a Mini, Minor or Major. The value of the orbs available changes with bet, accordingly, and you'll have more shots at progressives at higher bets.
Each spin, the orbs move up a space. If they're on the top space, they'll leave the reel set. Orbs can be landed on the top of the reel set so they can last for one spin, be placed on the bottom of the reel set and last for four spins, or somewhere in between.
Jackpot Feature
Three of the 'B' Babylon symbols will trigger a Jackpot Feature bonus. It's a predetermined pick (the pay table even confirms this), and you win one of the four progressives.
Jackpot progressives are available at any bet, but the pay table specifically notes that the probability of triggering the jackpot progressives changes with bet. On another screen it also confirms that the odds of winning a Major or Mega is proportional to the bet amount.
In this way, it operates like Dancing Drums or 88 Fortunes where your frequency of entering the progressive picking increases with bet, and once inside your chances of winning any particular progressive are the same.
So expect a lot of minis and minors at all bets, but just more chances at entering the picking screen at higher bets. The Major is also available on the base game orbs, so it will show up proportionally more often based on wager.
Super Orb Free Games Bonus
Three or more bonus symbols triggers the Super Orb Free Games Bonus. The trigger payout and spin count changes based on number of symbols:
3 bonus symbols: 8 free games and 2x your bet
4 bonus symbols: 15 free games and 10x your bet
5 bonus symbols: 25 free games and 20x your bet
The game's reel set doubles in size to a 5×8 reel set for the bonus. The mystery and stacked symbol setup carries into the free games.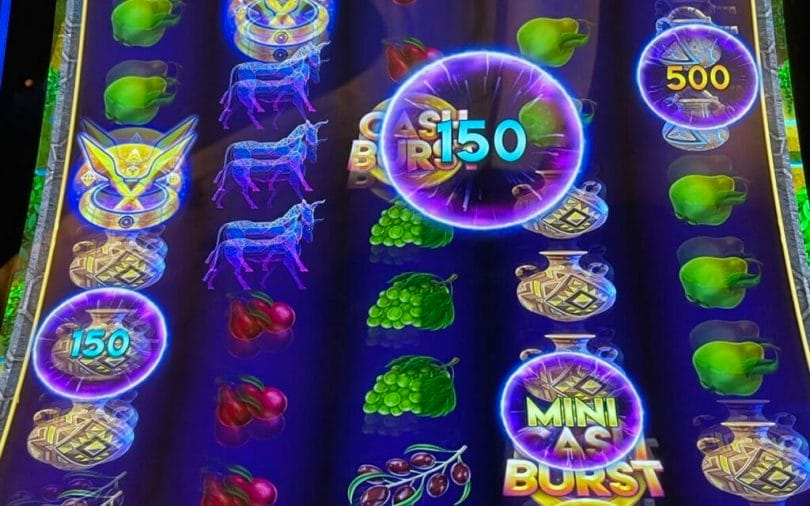 So does the ability for orbs to appear and shift of, but now you've got the chance for Super Orbs, which are larger in size. Super orbs can be 1×1, 2×2, 3×3, 4×4 or 5×5 in size, and can house prizes up to 20x or the Mini or Minor.
A Cash Burst symbol just needs to land anywhere within an orb's coverage to be awarded. Bigger orbs stay around until they're completely off the screen, so a 5×5 can have one row of the reel set occupied and still be available, even if the other four at that point are off the reel set.
If you land more than one Cash Burst symbol inside a supersized orb, you get the prize for each Cash Burst symbol that landed inside it – that can make the bonus nice in a hurry. Orbs can potentially even overlap, allowing multiple prizes to be awarded if that Cash Burst symbol lands just right.
You can retrigger, and do so with as little as 2 bonus symbols on the game – it'll yield 3 more spins if you do (3 or more follows the original pay table for a trigger). The progressive picking opportunity is not around in the free games bonus.
One interesting note – the orbs on screen at the beginning of the bonus pick up from the last bonus game – so if the setup was particularly good, it'll remain so on the next bonus.
Understanding the Advantage
The challenge here relative to those other orb/bubble games is the concept of a prize instead of wilds. You still have the potential for up to three spins with a prize that starts at 2x for any bubbles left behind by a previous player.
So to me, the risk-reward ratio doesn't really get interesting unless you find a bigger orb prize that makes the try worth it, or a game with a lot of bubbles sitting around where there's at least a better chance of hitting one.
Unfortunately those orb don't come often at times to begin with, let alone left behind, and if they're small, it's just not worth it.
Orb location doesn't really matter in this case because the Cash Burst symbol doesn't turn them wild and expand them, so you're just worried about what's inside the orb as a prize.
The other potential scenario is if the previous bonus left behind some really good orb opportunities that playing for a bonus could warrant it. There, the upside potential may be larger, but the open-ended nature of trying to get a bonus can dilute that quickly (my one and only bonus while getting some time on the game was a not-exciting 10x win).
Watch and Learn
Here is TheBigPayback with a great session on this version of the Cash Burst series:
Slotaholic did 100 spins on Force of Babylon: