My offers improved over the summer, as I was plotting my next Las Vegas trip, and for the first time I was offered a chance to stay at Delano Las Vegas, with a comped room, and without a resort fee. So I decided to avail myself of the opportunity and see what it had to offer as part of my fall trip.
Delano is a hotel attached to Mandalay Bay, but functions as a separate hotel. The hotel has a separate entrance to the parking garage for Mandalay Bay, with easy access to the hotel banks.
I had a strip view king suite, which is basically the good view version of their standard room. I'm using the PR photos here because my photos came out a bit poor, but what you see here is what I had. The soft colors were really appealing, and the room felt very modern and comfortable. I slept soundly in the bed – Las Vegas has its share of good hotel beds, and this one hit the spot for me.
I was assigned an upper floor room with a strip view as promised, and it was an absolutely stellar view. From my location you could see pretty far down the strip, which was also quite enjoyable.
Being an all suite hotel, there was a separate living room space that was also quite comfortable. I wasn't working the nights I had the room as it was over a weekend, but if I had to I'd have plenty of room to work in a space separate from the bedroom, which is quite nice.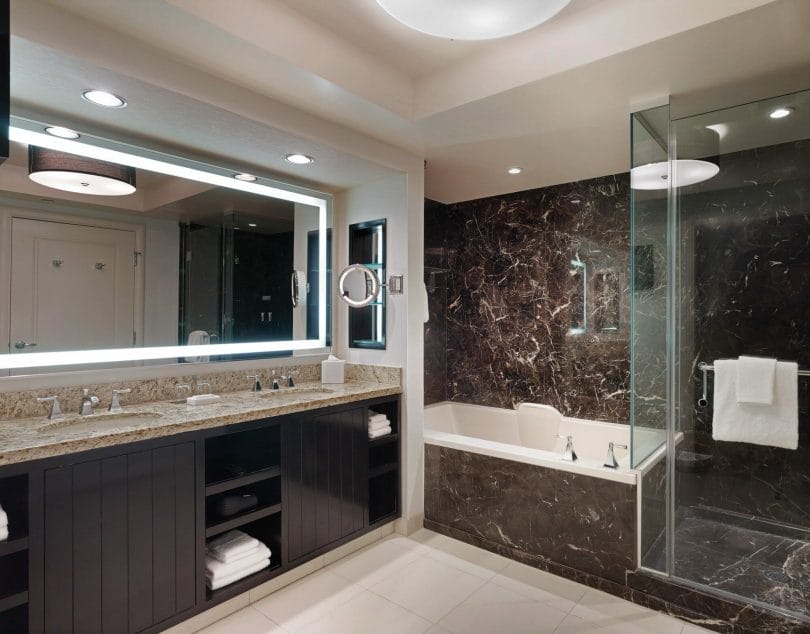 The bathroom was equally well appointed and large, with both a shower and a tub available. With many hotels taking the tubs out, including MGM property Bellagio, it's nice to see options with tubs persisting.
Delano doesn't have a casino to call its own; instead a hallway connects it into the Mandalay Bay casino itself. There are a few dining options and an essentials store on the Delano side, but you of course have access to the Mandalay Bay options as well.
Della's Kitchen is open in mornings, for instance, right in that connecting hallway, with what looked like a solid range of options at a good breakfast price. I didn't have a chance to eat there during my visit, but I plan on checking it out next visit.
Delano guests get access to the Delano Beach Club, open seasonally and separate from the Mandalay Bay Beach, but guests of Delano can use both.
Delano has a top of the hotel bar that's open evenings, the Skyfall Lounge, although one of the nights I was there it was closed for a private engagement. Given the view I had, I can only imagine what the bar's views would be.
One thing that's great about Delano is the hallway drops you right at the Mandalay Place shops, which also serves as a connector to Luxor (where you can continue on to Excalibur). Having a continuous, connected string of places to play and eat (and use those resort credits) is a nice plus as well.
I'll be headed back to Delano on my next visit, thanks to an enjoyable stay this fall. If you have the opportunity to stay there, I highly recommend it.