The Lock it Link series of games is unusual that despite their being a consistent throughput of the games having some aspects in common, there's an unusual diversity between the game's starting point and some of the more recent games.
That also means the games can be more fun because of their more unique traits, and for me, Hold On to Your Hat is one of them. The game features 60 credit bet increments with an All Ways Pays format, similar to many games by the Shuffle Master division of Scientific Games, which is where this game heralds from.
The game also features Stacked Symbols, another trait of the game designer, which tends to lead to some difficulty getting good hits, but when you get them they tend to pay well. Wild symbols can help further with the lining up of pays.
Like many All Ways Pays games, the 5 of a kind payout is significantly stronger than the 4 of a kind payout, by 3-4x, so 5 of a kinds can add up fast if you get enough stacked symbols.
The bonus round is where things can get a bit more exciting, though. Three or more hat symbols will trigger the free spins, where you aim to land more hats. You start with 10 free spins, and a purple frame around those three reel spaces.
During the free spins, three or more hats will award three additional free games. No matter how many hats land in each spin, you get frames, upgrade frames, or get credit prizes, on the spaces where they land. If the space contains:
No frame: Purple frame added
Purple frame: Upgraded to Silver frame
Silver frame: Upgraded to Gold frame
Gold frame: 10x your total bet awarded as a bonus prize
The 10 and 9 poker symbols are removed, and wild symbols are added to reel 5, to further amp up the potential in the bonus round, since line hits are possible as you collect hats.
Upon completion of all the free games, hats are restored to the spaces where the frames are located, with the hats matching their frame colors. Then prizes are awarded based on the hat color:
Purple hat: 1-5x your total bet
Silver hat: 2-25x your total bet, Major, Minor or Mini
Gold hat: 10-100x your total bet, Grand, Major Mini, or Minor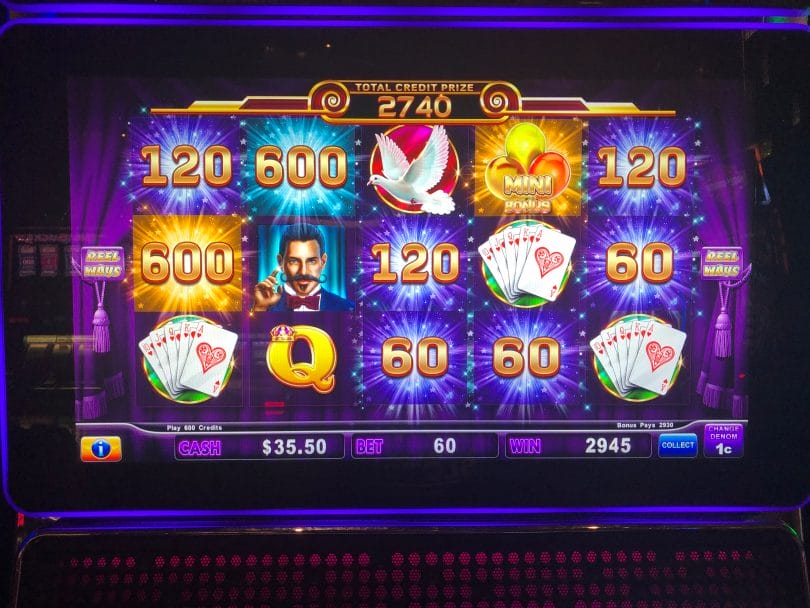 As always, your chances of winning a jackpot increases based on your overall bet. For the fixed progressives, higher bet multipliers will yield better results, and for the Major/Grand, higher overall bets increase your overall chances. This is a pretty stable expectation for all games of this format, but it is worth mentioning here.
You can also only win the Major or Grand, not both, so if you win either of them, the other is officially out of play.
The bonuses tend to be pretty good on this game, so naturally it can be difficult to get them, making them exciting to play through when they do come around. For some time I had a lot of trouble getting bonuses on the game, then got a clump of them awhile ago, and little since, so your mileage will likely vary on this volatile game.
Watch and Learn
RandomSlots has a bonus on the game, and as always features pay tables in the video:
Check out this amazing video from SLOTaholic where he gets a Grand jackpot on a $1.20 bet:
TheBigPayback got his own handpay on the game, this time winning a Major Jackpot: