One of the cool things about G2E this year was a number of the major manufacturers had events for YouTubers and other influencers (I'm in that "other" category so it seems) to come and check out games. We were given access to some key members of the teams, and were able to learn a lot about the offerings while doing so in a way that didn't get in the way of the companies from also showing off the games to clients like casinos.
Light and Wonder put together an amazing event, in not only did we get a dedicated tour (and access to things like massages), but we also got to talk to some of the game developers that had a hand in the various games, so you got to learn a bit about how their games came to be.
That was quite exciting, and in the process I got to interview Light and Wonder Director, Game Development, Kimberly Cohn, which I'll share when the video is out, about one of her games, Ultimate Fire Link Cash Falls.
Here are some of the games I checked out, and what you can expect:
Tree of Wealth Prosperity
I've been a longtime fan of the original Tree of Wealth games, and the latest iteration falls into the Prosperity line of games, similar to what we saw with Dancing Drums Prosperity.
From an art perspective, the tree has been given more prominence, making great use of the Kascada hardware screen. In a nod to the past, Rich Traditions has 1,024 ways to win (the game in some versions had a choice between that and the more traditional 243 ways to win), while Jade Wealth stuck with 243 ways to win.
The progressive pick adds in the ability to win an extra jackpot
Dragon
Dragon was one of the more unique games, not building off any existing theme or mechanic, and developed with the tall Mural cabinet in mind. A true persistence element is the fire rings, which when a jade symbol lands, the fire ring will appear and will persist for three games. Getting another ring to land will reset the countdown.
When a coin (which has cash on reels prizes) lands inside the fire ring, you win that value. But the unique element is if there are coins above that coin, the next coin will drop down and be won, and if another coin is then above the ring, that one drops down, until all the coins above the ring have been paid out.
If there are multiple rings on the reel, coins could be awarded twice, once in each space where the ring exists, presuming a full string of coins, which can go as high as 30 long, especially in the bonus, where they're more prevalent.
Three wheel symbols will trigger the bonus, starting with a wheel that will spin two sections, one that has the number of spins and the other the reel height for the length of the bonus. You can go as high as 25 spins and as high as 10 spaces high on the reels. The free games has one other key difference, as the fire rings persist for the entire bonus. The more spins, the more fire rings can be on the reels, and the easier it is to win those cash on reels prizes.
This one was pretty cool and comes from a new studio for them – it's nice to see things going in some new directions!
Journey to the Planet Moolah
Of course there were also brand extensions, and Journey to Planet Moolah is another game being featured on their super tall Mural cabinet. This time we get to visit their planet, which also features a few new wrinkles.
A Wide Area Progressive has been added to the game. On the planet (which serves as a wheel) features the Baby Unicow as well as the Cowcano Eruption, two new features to the series.
A new true persistence counter increments the top spin count, a progressive starting at 400, the previous top spin count that could be won on the previous games, and increasing from there.
When you get a bonus, as you travel to Planet Moolah, you have the chance to win additional spins, prizes and jackpots.
Baby Unicow gives you multiple cow upgrades, just like the original Unicow, just not as much in total, but you get it within the bonus so it can be very helpful to get pays or a retrigger. Money wilds persist for a couple of spins, shifting down a reel space each spin.
Cowcano Eruption reminds me of a feature on games like the old Wizard of Oz or Wonka, where an array of wilds appear in various locations above the reels, and the board moves around until it locks in, claiming the wilds in the spaces that they appear when the reel set grabs them. This effectively gives you additional wilds for that spin, offering more pay opportunities.
The wheel can award other items like multipliers and some of the other cow upgrades like Invaders Blast. And the Unicow can still come out to play, offering a lot of upgrades that heavily increase the chance of a massive free spins bonus. They said the Unicow is likely to come out every 10 hours of play, on average, so that means it's not horribly inaccessible, but it'll take some work to get it.
This definitely continues the feel of the series, one that has become a high priority for both Light & Wonder and players alike.
Journey to the Planet Moolah video
RandomSlots got a walkthrough in this video:
Ultimate Fire Link Cash Falls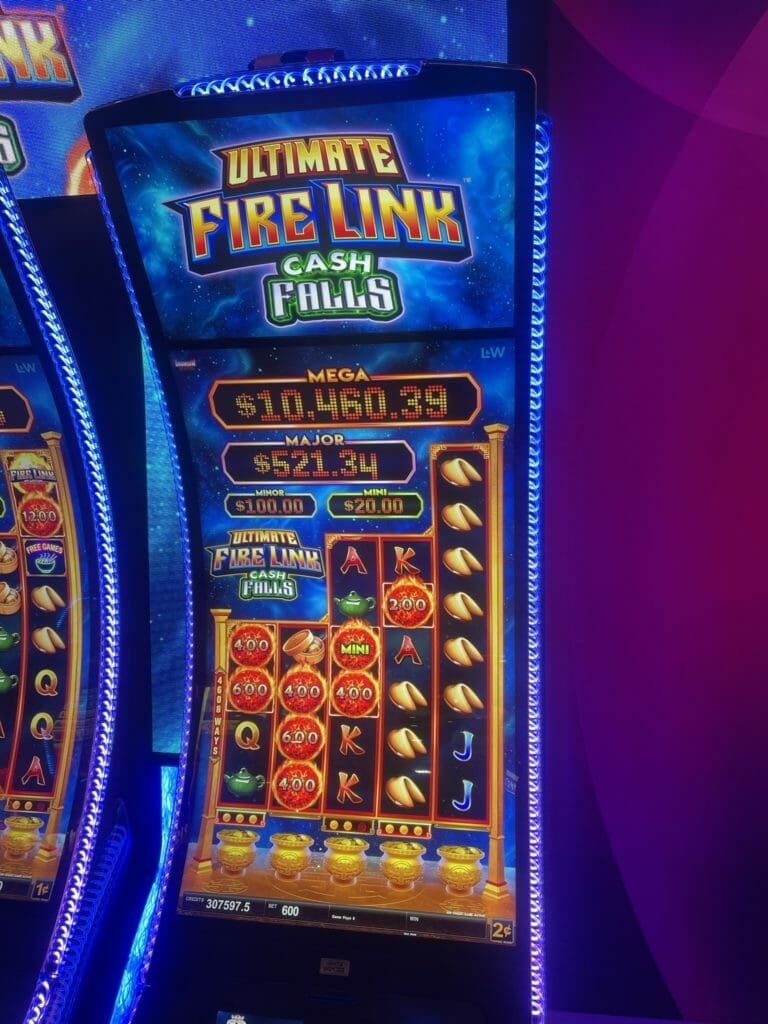 While Light & Wonder has done series of games that have similar aspects in common, like the Prosperity and Explosion series, I can't recall another mash-up like this, although competitors like Aristocrat have been doing them (like Wild Wild Buffalo).
But the brilliance here is leveraging two cash on reels mechanics, and putting them both to work. Cash Falls has a pretty high frequency opportunity to win some cash on reels prizes when you fill a reel, whereas Ultimate Fire Link is a tougher one to achieve.
The Cash Falls frequency of getting those prizes is maintained, but certain prizes can have the Ultimate Fire Link logo, and if that reel is filled, you get to do the Fire Link bonus to collect more prizes and really amp up the payout.
The Cash Falls free spins follows the original in that all prizes landed are won, but if you fill a reel, you get to spin a wheel. Now, however, along with the multiplier is once again that Ultimate Fire Link logo, which takes you in to the Fire Link bonus to win more prizes.
Kimberly Cohn, who has overseen the Fire Link games since their inception, was involved here as well, and the care to make sure both game types were properly serviced and balanced was on display, even down to how the game transitions into the free games, which leverages the Cash Falls transition for continuity.
The game will also be featured on their new Cosmic cabinet, which features a curved screen and an innovative fiber optic coil edge lightning, which was gorgeous. And it was nice to see the China Street graphics revived here, creating a link between the original series and this mash-up.
Quick Hit Explosion
Regular readers of the site know I love a good Quick Hit game, and Quick Hit Explosion is the latest title in their Explosion series. This time Quick Hit gets cash on reels prizes that are awarded in the base game, and can increase the jackpots in the free spins bonus.
The Quick Hit Blitz model of free spins bonus is used here, this time collecting Quick Hit symbols to upgrade your bonus prize.
One thing that's different here is Quick Hit does not have true progressives, in part because they wanted to offer a multi-denomination game. So this one has progressives that shift with bet, taking a different direction for the Quick Hit series.
More Light & Wonder G2E 2022 Videos
Here's a video from Fantini Research which features the games Dragon and Frankenstein in the Monsters series:
Here is Slotaholic's video from the booth at G2E, which includes the games Dragon, Hypercharged, Journey to Planet Moolah, Willy Wonka I Want it Now, Money Link Revolution Amazon Fortune and Frankenstein:
Diana Evoni had her own recap, featuring Journey to the Planet Moolah, new Lock it Link Riches themes like Aztec Runner, and Robin Hood Treasure Shot: