Game: Lucky Words
Manufacturer: Gamblit Gaming
Advantage play potential: Medium
What Makes it Special: Progressives grow with each game played. Highly skilled players can potentially accumulate progressives with ease.
On a site like Know Your Slots, I don't often plan on writing things about non-slot topics, but as things hit me as interesting, I share. For instance, I've been curious, as many have been, about the various skill gaming options that have been put out there in recent years.
Games like Space Invaders by WMS, which has already disappeared from all my home casinos (and is therefore holding me back from doing a write-up), are focused on a slot experience with a skill-based bonus round option (which you can choose to avoid) and an Advantage Play opportunity based on how many shots have been accumulated. Others, like Texas Tea Pinball, simply offer a skill-based bonus round on an otherwise normal slot.
But Gamblit Gaming is among those who are offering a truly skill-based approach to games. The one that's caught my eye the most is Lucky Words, which looks and plays like games such as Boggle. Today I'm going to talk a bit about it, because based on my experience those who can do well with games like this may find some Advantage Play potential.
Understanding the Game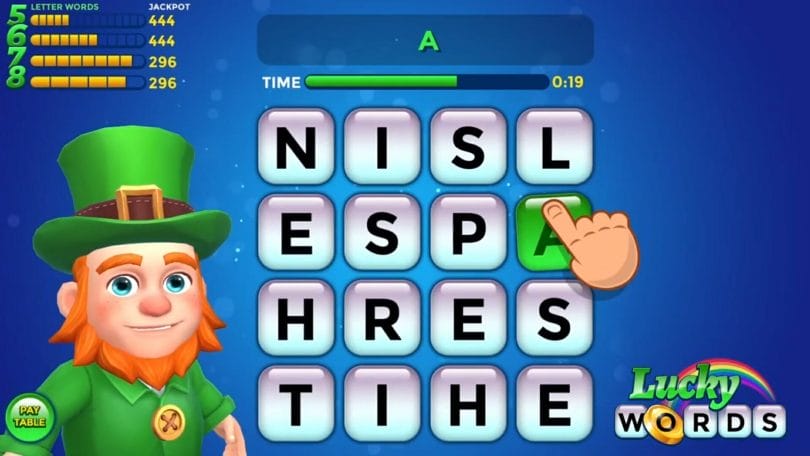 The game offers a 4×4 grid of letters with the goal of making words of three or more letters. The letters must touch in some direction, including diagonally, and no square can be used more than once per word.
You are given 30 seconds to make as many words as you can to fill the payout meters, which appear on the right side of the screen.
Each letter used to make a word fills one segment. Filling all the segments will give you five payouts, which are generated at random and determine how much you make. So it's good to know, even if you can't fill all five meters, as long as you make one three-letter word you'll be paid something for the game. Max bet is $3 but I've found the volatility to not be enormous on the game.
The other major thing is the progressives. When you make a word of five or more letters, you fill one mark on the progressive for that many letters. Fill it up and you win the progressive jackpot. You qualify for the maximum progressives at the max bet. One max bet game, based on my evaluation, increases the 5- and 6-letter word jackpots by 9 cents, and the 7- and 8- letter words by 6 cents. So as you play, they will increase.
Since each game takes 30 seconds, and it takes time to provide the payouts/progressive jackpots and return to the home screen, you're look at 45 seconds to a minute per cycle. This is not a high coin-in game even at max bet; someone playing a 50 cent a spin slot will do more coin-in over time, I'd gather, than someone playing this.
If you walk away from a machine and cash out, all the progressive progress is reset, meaning the next player can't take advantage of your progress. But if players don't win the progressives and move on, the progressive amounts can continue to grow. And that leads me to…
Understanding the Advantage
The progressives are what gives an Advantage Play opportunity. As they grow, they become more ripe to be collected and keep you in positive territory. a few dollars in on the 5- and 6-letter progressives are probably enough to give it a try since those words are usually easy to make and don't take too many tries to accomplish.
The 7- and 8- letter progressives are harder. I can usually knock off the 7- and if it's $10 or higher number, it's almost universally a positive Advantage Play for my skill level (I've seen higher than $20 for the 7-letter word progressive before which just makes it even better).
My general strategy has been to walk after the 7-letter meter is clear, as usually I rarely get one or two 8-letter-words deep before I get the 7. As long as the 5, 6, and 7 word meters are a few dollars each or more it's a pretty safe option and if you don't win, your losses will be minimal.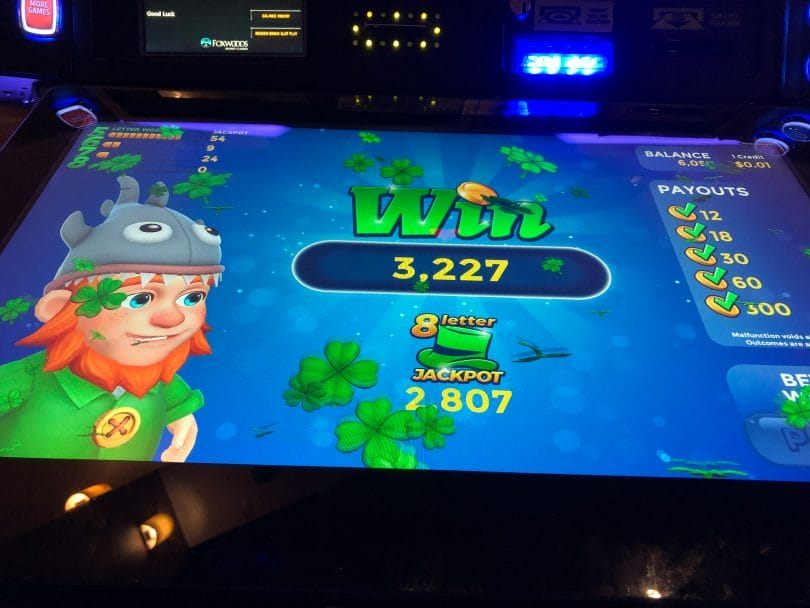 But right after I scheduled this post, I had an unusual kick-off where I found more 8s than 7s initially, and I realized that with some standard Boggle strategies (spot the ability to add RE to the beginning, ED to the end, etc.) it might not be too tough to pick off an 8 progressive from there, so I did, taking not only $30, but also scoring a $15 round pay just before it to claim $40 off the machine in a few minutes.
You can see by the meters that it takes less 6-letter words to win that progressive than the 5-letter words, less 7-letter words than 6, etc. Despite this, it's still harder to win the 6-letter progressive than the 5, and so forth, because the time limit and limited number of units for the payouts all serve to limit how long you can chew on a certain grid of letters. The game will end before the 30 seconds are up the moment you fill all five payout meters.
As such, if you're confident you can get enough letters, you can attempt to take a beat to try to find a 7 or 8; I usually will put a couple of words on the board and mentally tuck away a couple I can use to gain some momentum if I can't find a 7+ word or two.
You're not going to take home a massive win, but it's worth a check, and the low coin-in and volatility also means you won't generally lose a ton of money trying to get the jackpots either.
Watch and Learn
Here is a promotional video from Gamblit Gaming, who developed the concept:
RandomSlots, as usual, has a great video showing off the basics of the game.
A final note – this is the first article I've prepared without a single picture I've taken myself. The game is large and hard to photograph to begin with, and I live in markets where photographs are generally frowned upon. The locations of the games where I live are also conveniently right by where security guards like to hover.
So in this case the pictures in this article are screen caps of Gamblit Gaming promotional videos and I just wanted to acknowledge that. When I can get into a market where I can take some pictures, I will swap them out.