Top Dollar is a game that has enduring popularity on the casino floor. But like Pinball, it's not a game at all, but effectively a bonus game add-on to many of their other popular titles.
While in Las Vegas, I came across a typical example that you can find on casino floors. This particular one is a three-credit version; two-credit versions also exist. It used Triple Diamond as its base game; I've seen Double Diamond used as well, and it wouldn't be surprising to learn other variations exist. It's a single line game, so winning combinations need to show up in the center of the reels.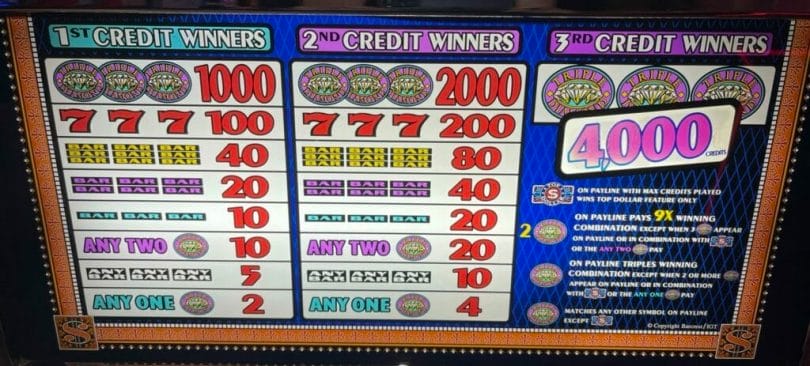 Like Pinball, the last credit does two things: It increases the top payout, and it funds the bonus game. This effectively makes that last credit like a feature bet – a good chunk of that money is going straight to offering you a bonus. If the bonus isn't that important, finding a standard Double Diamond or Triple Diamond machine would be a smarter play.
The Top Dollar symbol rests on reel 3, and landing it on the payline triggers the Top Dollar bonus, where you get up to four offers of varying credit amounts. The ability to choose your destiny has its allure, and the game will helpfully tell you what the mathematically right choice is.
On the original Top Dollar, you can win up to 1,000 credits; there are varying sequels and line extensions that have other opportunities as well. The most notable sequel, Double Top Dollar, adds in the potential for multipliers.
It speaks to the public appreciation of the original format that the game continues to stand firmly on the casino floor after all this time, in its original form, many times on cabinets that are well over a decade old at this point.
But it's rare to find a casino without at least one or two of these in the high limit room, and many have lower denomination options on the main casino floor to this day as well.