Many players who play slots, play them a lot. Some have favored games, while others noodle with a variety of options.
On some slots, there are scenarios that happen relatively rarely, and so they become events that some have on their slot machine bucket list. Today, we'll explore a few of them, and why they're so special. And if you have one you don't see here, please suggest others in the comments!
Moolah Unicow / Crystal Forest Rainbow Orb
Newer versions of the Moolah series, and its clone Crystal Forest, have wilds with specialty additions that can add wilds, blast the reels, place money on wilds duringt the bonus and more.
One super wild booster is the Unicow or Rainbow Orb, depending on the series you're playing. If you get a line hit with that wild included, it will give you three blast reels (which eliminate symbols and increase the cascade count), double the free spins, one drop in wilds, which adds wilds to the reel, and enable the money feature on the reels.
You get a guaranteed bonus, and with other natural line hits, can sometimes drive the free spin count into the upper echelon.
Watch and Learn
Here's a Unicow compilation from Slot Queen:
Buffalo Gold: 15 Gold Heads
On Buffalo Gold and sequels like Buffalo Gold Revolution, you can collect gold buffalo heads during the bonus. 15 is the max, and getting them all means all of the other four animal symbols turns to buffalo, drastically increasing the chances of big clumped sets of buffalo symbols can arrive, with big pays to go with them.
The game gets good even without reaching 15, but that full count is the pinnacle of success, and when a lot of games remaining on the counter are there when it happens, a handpay is nearly unavoidable.
More recently, the gold head mechanic has been extended to Timber Wolf Gold, with similar outcomes likely when all 15 are collected.
Watch and Learn
I have a Slot Moments post covering two examples of 15 gold heads coming up in a few days as this is posted, but here's another example from Diana Evoni:
Most Quick Hit Machines: 9 Quick Hit Symbols
Quick HIt games traditionally have five jackpot progressives, paid when you get anywhere from 5 to 9 Quick Hit symbols. So of course getting all nine, which are traditionally laid out in a 1-2-3-2-1 setup on the five reels, is the big hit regular players hope for.
5, 6, and to a lesser degree 7 are not too tough to hit, but the 8 and 9 are both very difficult to get (9 being toughest, as you can imagine).
A couple of variations of Quick Hit have different goals – Quick Hit Blitz and Quick Hit Platinum being two of them. But for most versions, that 9 Quick Hit symbol hit is one people hope for.
Watch and Learn
Here's a high limit 9 symbol win from B H:
Most Link Games: Grand/Mega Jackpot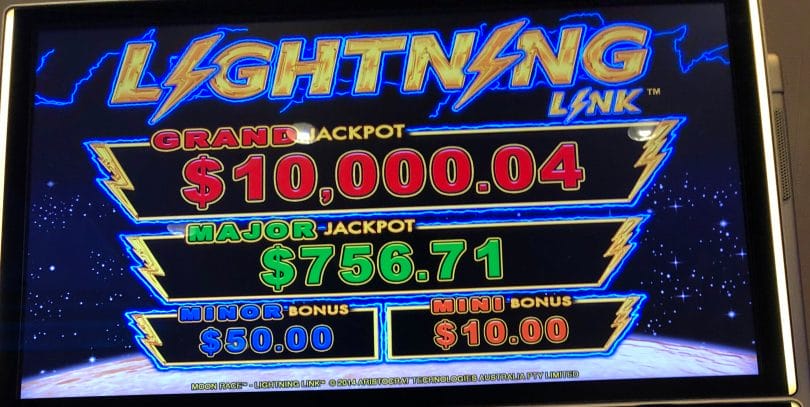 Whether it's Lightning Link and its siblings, Lock it Link, Drop & Lock, Mighty Cash or Ultimate Fire Link, the top jackpots, most often called Grand but on Fire Link is called the Mega, are the top progressive jackpot worth going for.
The way you achieve them differs by game, but the challenge of getting them is among the most hoped for outcomes, since they're so rare. And since many of these games tend to have avid fans who play them often, it's something they hope to achieve along the way,.
Watch and Learn
A couple of Slot Moments posts earlier this year have examples of this, including Brian Christopher's 80 cent Grand on Mighty Link, and Slotaholic's grand on Hold On To Your Hat on a $1.20 bet.
Any Game, Really: A Handpay
For many slot players, just the idea of a handpay is alluring – a minimum of $1,200 won in a single wager. If you're betting $10 or more per spin regularly, this may be old hat, but for lower betters, getting one is a dream come true.
This one is less rare than many of the others, given that you have some control over its potential arrival based on your wager size. But it doesn't make it any less special, especially for those who bet low and win big!