A reader recently asked me, as I get asked periodically, if I have a list of games of a certain type, in this case lower volatility machines. And while I've written about volatility and what it means, and I've done deeper dives on a number of low volatility machines, I've not compiled a single page with a number of examples.
So in today's post I'll provide five such examples, what makes them lower volatility and what makes them good games despite the lower volatility.
Defining Low Volatility
First, a quick reminder for those who may not be familiar with volatility. It's basically a term that indicates how big a swing you may go from one extreme to the other when it comes to winning and losing.
In the most simplistic of definitions, lower volatility games will give you more frequent wins, but smaller payouts. Higher volatility games will give you bigger wins, but they'll come less often. Higher volatility games will have less winning spins and more dead spins, while lower volatility games will tend to have more winning spins, since they can spread the pays out over more of them.
1. Quick Spin (Particularly Super Charged 7s)
I've been a big fan of the Quick Spin series since it was introduced by Ainsworth, and it remains a staple of the games I play on the casino floor when available. The reason is simple – the game provides a pretty consistent ride, with wheel spins on average once every 56 spins, and a free spins bonus that comes around frequently enough as well.
The top prize on this game is 1000x on the wheel, which is pretty good but with a lower top prize, the money can be spread around a lot more. Mixed bar pays also help lower the volatility by offering pays more often. The original Super Charged 7s and its clones are about as good as it gets.
Sequels to the game add new elements and up the volatility some, but even there compared to other games out there it's not particularly tough, excepting the high denomination version, which is more volatile by necessity.
2. Triple Double Diamond Free Games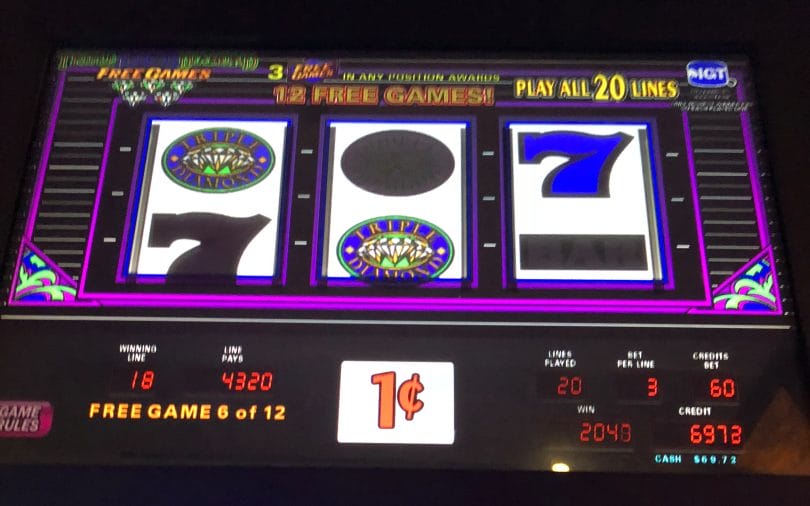 This is a mechanical 3-reel slot that's been a staple on the casino floor for a long time now, and it's because in part it extends a popular franchise, that of the double/triple diamond games, but also because it adds in a free games element that yields 12 free games when the three bonus symbols appear in any location on the reels.
The game features 20 lines, which spreads the pays out and tends to yield line hits quite often given the make-up of each of the reels. Multipliers give the chance for bigger wins, but a lot of smaller wins tends to be the norm.
3. Big Vegas
Big Vegas is an example of a Bally game with lower volatility, although they have quite a few games that could qualify. The game has spinners on two of the reels that reveal wilds all in the direction the spinner lands, which can add some additional line hits to what already comes pretty naturally in the game.
The bonus has additional potential, with five free spins that yield sticky wilds off the spinners. But for the most part the game is a pretty smooth ride with line hits coming pretty regularly.
4. Cheshire Cat
Cheshire Cat is an example of a game that uses stacked symbols to deliver regular, smaller payouts. A single symbol is selected each spin and is on the reels in generous enough quantities for line hits to be regularly featured.
The premium Cheshire Cat symbol pays a mere 50x for a full screen, so you know when you have pays like this, it's not going to yield anything massive except in the bonus round, where multiple reel sets and guaranteed wild reels can make the difference.
5. Omni Gems
Incredible Technologies is another company that tends to deliver quality lower volatility games, and Omni Gems is one I reviewed recently that fits the bill nicely.
WIth a jackpot feature that tends to deliver smaller pays over the progressives, and a reel set layout that tends to deliver a lot of smaller wins, you'll find a relatively smooth ride without too many drastic ups or downs.
Do you have a favorite lower volatility game? Share in the comments!