Game: Wheel of Fortune 4D More Money
Manufacturer: IGT
Advantage Play Potential: Medium-Low
What Makes it Special: Multipliers accumulate above the reels, and when highlighted, are eligible to be won if a spin results in a win.
Wheel of Fortune 4D More Money is not nearly as available and around as the original Wheel of Fortune 4D reviewed here earlier, but I have seen it around at places like Mohegan Sun and the Cosmopolitan of Las Vegas.
This game also features a persistent state element, and it's connected to the wilds, but in a very different way, and has its own things to watch out for.
Understanding the Game
This version features 100 credit bet increments, just like its sibling, but only evaluates 30 lines, a big difference. Like its sibling, 300 credits or more makes you eligible for the jackpot.
The big difference here is sitting over each reel is a multiplier that starts at 1x. Each time a spin rolls and lands at least one wild in a given reel, the multiplier above that reel will increment by 1x, up to a maximum of 20x. Each bet level has its own state of persistent multipliers.
Each spin, one of the multipliers will be highlighted. The multiplier highlighted moves in a methodical way, starting with reel 1, then next spin reel 2, all the way to reel 5, and then goes back to reel 1.
Whichever multiplier is highlighted on a given spin, if the spin is a winning one, that multiplier will be used, and then reset to 1x. If the multiplier highlighted yields a losing spin, it's left alone to potentially grow for a few spins while the highlighted multiplier rotates through the other reels.
The game also has a few ways to obtain a bonus.
Wheel Spin
Get three spin symbols on reels 2, 3 and 4 to get a wheel spin. You could win credits, or one of the three other bonuses: Free Games, Jackpot Bonus, and Toss-Up Bonus. The spaces that award credits are a multiplier value that are multiplied by your line bet (1-5 depending on which credit level you're playing).
Free Games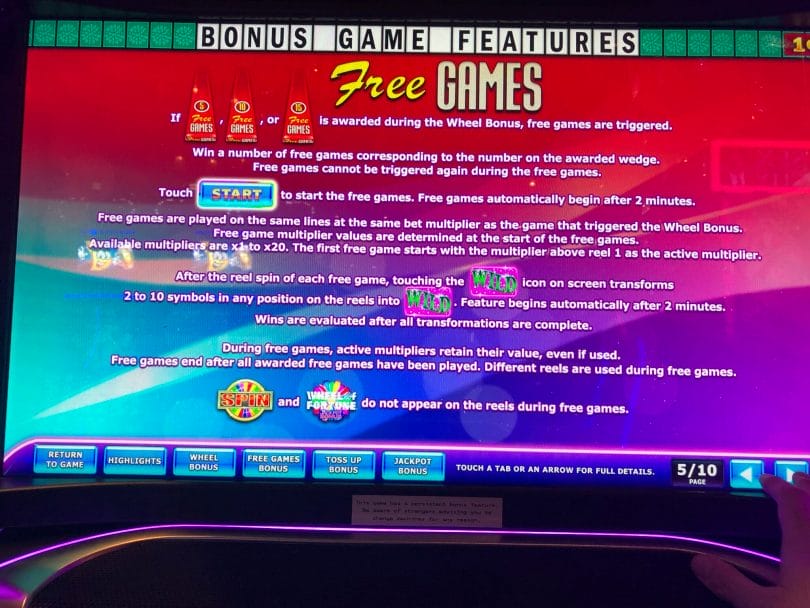 Won from the wheel spin, you can get 5, 10 or 15 free spins. Free games have the same ability to get a multiplier on the wheel, and the major difference is active multipliers do not lose their value if utilized during the free games.
Each spin, after the reels have completed spinning, a wild icon will appear on screen; touching the icon will make 2-10 spaces turn wild each spin, increasing the chances of a win.
Spin one starts with the multiplier on the first reel selected, and each spin it progresses over one, just like in the base game. The multipliers also stay within the x1 to x20 range of the base games. There is no retriggering mechanism. The multiplier values are determined at the start of the free games.
Jackpot Bonus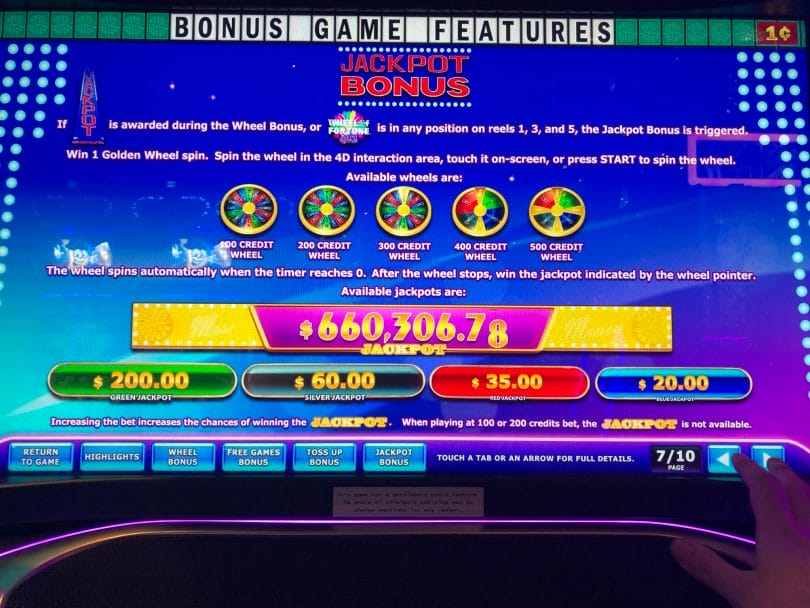 The Jackpot Bonus can be triggered with symbols on 1, 3 and 5, or via the wheel spinning bonus.
Similar to other recent Wheel of Fortune games with a Jackpot Bonus spin, depending on your wager, the golden spin will spin a jackpot wheel to determine which jackpot you win. If you are wagering at least $3, you are eligible for the Wide-Area Progressive jackpot. As the pay table states, higher bets increases the chances of winning the jackpot.
Toss-Up Bonus
When the toss-up bonus is triggered, a puzzle is displayed and three players are available to solve the puzzle. If it's solved in the first try, you get the most credits; in the second try, you get less credits; and in the third and final try, you get the least amount of credits. It's a picking bonus tied into the theme of the game, essentially.
Understanding the Advantage
In this case it's the persistent multipliers. Given they can grow to 20x, and multiple reels can have a built up multiplier, more high multipliers has more potential. Of course, you get a lower paying symbol to line up and it can pay out nearly nothing, but enough wilds and/or premium symbols and it can be sizable.
The multipliers are persistent to the bet level, so there's five levels you can check to see what the potential can be.
There's no guarantee scenario as you can have multiple losing spins on a high multiplier before achieving it, and be forced to complete a few more spins to bring it back around, so the potential isn't as strong as its sibling, but it does offer something.
Watch and Learn
Here is IGT's promotional video for the game:
Here is a video from Never Lucky Slots featuring the game:
And here is a video from PandaJock Slots: