One interesting thing about AGS for me this year, like Konami, is a percentage of their games had hit the casino floor already. In their case, they were showcasing them at the Venetian, which is where the Global Gaming Expo took place.
So some of the games in here I've actually had a chance to play on the casino floor, and one I wrote up recently, Shamrock Fortunes.
Another thing that's happening as AGS gains momentum is they're beginning to more frequently leverage previous themes and carry them forward, as they have more games with enduring popularity on the casino floor.
With that in mind, here are other games I checked out while at their booth.
Mega Diamond
Mega Diamond follows in the footsteps of those games with multiple wilds and multiple progressives, and you're chasing the big line hits and progressives. There's no bonuses or free spins, so all of the money is in the base game, which is a nice counterpart to the games that push all the money into the bonuses.
The wrinkle here is this is a multi-denomination game, so the wilds are more frequent on higher bets, which makes sense since you have a better chance at those progressives accordingly. There's also multiplier watermarks on the symbols, which can help multiple line hits.
These were set up at Venetian to go from quarter denomination up to $5. The flames indicate when a progressive is shifting beyond its average expected hit point, which doesn't confirm it's definitely going to go off, but can indicate when it's higher than average.
Like other companies that makes games in this format, there are variations on the theme with varying amounts of volatility. For instance, Gold Inferno skips the watermarked multipliers on the regular symbols in favor of wilds with multipliers.
Mega Diamond Video
RandomSlots has a walkthrough of the game:
Rakin' Bacon Sahara
Rakin' Bacon has been a smash hit for AGS, as has their sequel, Rakin' Bacon Deluxe. That sequel is licensed, meaning casinos rent it for their floors, so to balance that out two more Rakin' Bacon games are coming. The cuter (to me) of the two is Sahara.
Cornsquelius is getting a bit dressed up, but it's the same basic concept that players have come to love from the series. The free spins bonus has the ability to expand reels with arrows, which continues the game series' penchant for offering the ability to get taller reels, just in different formats. Being an all ways pays game, that can improve the chances for big line hits, which is what this game is all about.
Pillars of Cash
Pillars of Cash has a true persistence feature connected to each pillar above the reels. Cash on reels prizes get added to the pillar, push the pillar up a step and start a three spin counter. If another cash on reels prize appears within the three spins, the pillar moves up another step and the counter resets.
If the pillar gets all the way up to the dragon, the prize is won, and the pillar resets in both position and prize. If the counter expires, the pillar begins to move down the reels, pushing it farther away from that prize. The pillars are persistent to a specific bet.
In the free games, the pillars shift to being connected to the flat jackpots, and are now a random event as part of the free gmes.
Pillars of Cash Video
RandomSlots got a walkthrough of this game at G2E as well, including the free spins bonus:
River Dragons Jade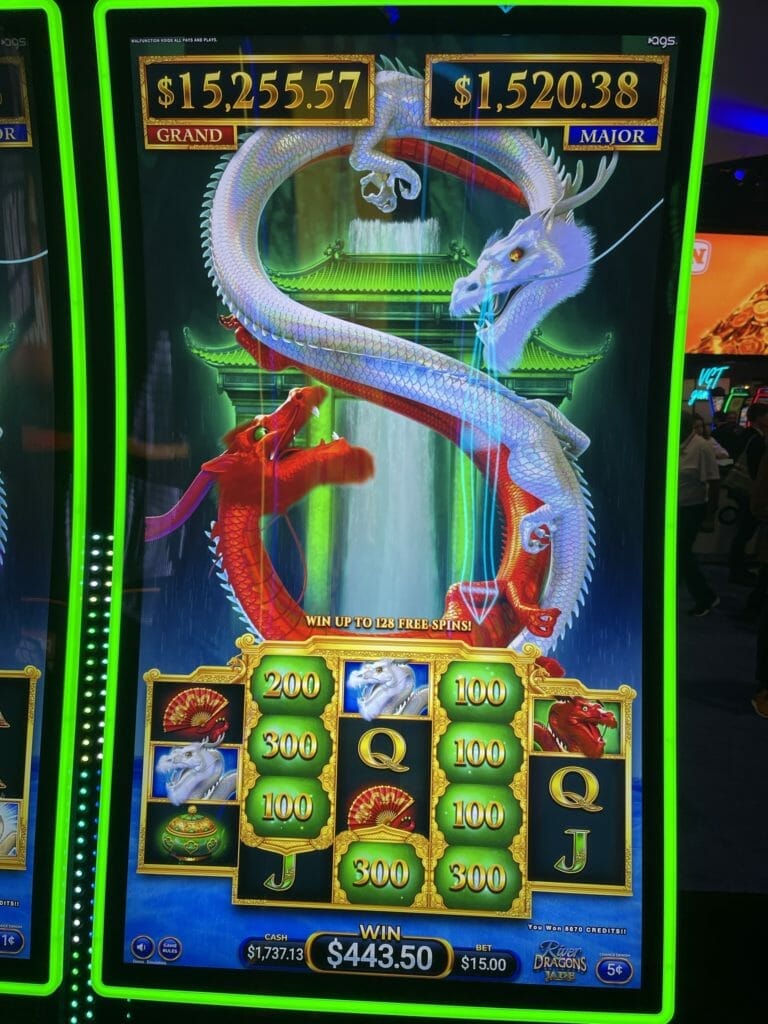 River Dragons is another popular series by AGS, so it makes sense the game will see its own extension. River Dragons Jade is one of two new themes that are in the works, with a couple of key differences.
The Cash on Reels scenario is added here, offering an additional opportunity for wins. The game also shifts to a multi-denomination format, and with that comes a wider variety of bet ranges. In fact, the minimum bet drops to 60 credits on penny denomination, vs. the 88 credit bets the game required in its original format. Of course, you can bet a lot bigger too.
The ability to have the middle reels grow, and trigger or retrigger a lot of spins, remains a key draw here, so fans of the original won't miss out on that as a key aspect.
Firestarter Dragon Moon
Another multi-denomination game by AGS is Firestarter, which features less orbs requiring a bonus as you move up in denomination, borrowing a page in concept from Mighty Cash but taking it farther by offering not only a 5 orb option at nickels and dimes, but a 4 orb option at quarters and dollars.
The game features a Jackpot Wheel, which features access to their flat jackpots and progressives, but the dragon can nudge to another wedge after awarding a prize to the Firestarter Fury feature.
In the Fury feature, you can climb a ladder above each reel that increases the prize that is awarded when a "Win" symbol lands. Multipliers can also land, and is guaranteed to appear at least once during the feature. You can also retrigger for extra spins, which improve the chances of winning more credit prizes, and there's a Boost All feature that can boost every reel by one space. Only prizes won with "Win" symbols are paid at the end of the feature.
Firestarter Dragon Moon Video
RandomSlots saw this game during G2E and shared this video:
More AGS Global Gaming Expo Videos
Brian Christopher did a live, playing some of the new games from AGS at Venetian, as part of G2E week. This included Shamrock Fortunes, Gold Inferno and Mega Diamond:
Fantini Research had their walkthrough with AGS, which includes Shamrock Fortunes: