Buffalo Chief is the latest in a lengthy line of games by Aristocrat carrying the Buffalo brand. It has all the core features you expect in the series, with the addition of a new Free Spins upgrade mechanic and a new version of the Stampede Feature.
One odd thing, and something being spotted with increasing frequency on premium Aristocrat games, is the bet levels aren't even. It's 80 credits for x1 and exactly twice that, 160 credits, for the x2 line bet, but 250 credits is for x3, which is more like 83 credits. The x4 bet is 360 credits, or 90 credits when divided by 4, and 500 credits on the x5 line bet, which is 100 credits when divided by 5.
What does this mean? You're likely getting increased access at some of the upgrades and features when betting higher. So lower betters are not going to see as much of it as higher betters. Indeed, during my time on the machine I got multiple bonuses, but only got one of the free games enhancements and none of the Stampede Feature.
At its core the game is an all ways pays, but with a 3,456 ways to win reel set (4x6x6x6x4). Stacked and clumped symbols help drive the game's potential.
The game features three jackpots, a flat Minor/Major that shifts based on denomination, and a Grand progressive jackpot, which are one when you trigger the Free Games with a special version of the coin on reel 1 with the jackpot name listed on the coin. The chances of winning a jackpot increases with wager, with the chances of winning the grand increasingly proportionally to the wager growth. Jackpots and progressives appear as words on the coins, and are awarded if the scatter pay is achieved (triggering a bonus, in other words).
Buffalos pay exactly as they do on many of the earlier Buffalo games, with $3 per 5 of a kind, although with higher credit wagers it's not proportionally as good compared to your bet as, say, a 40 credit wager on the original Buffalo. But with more ways to win, it can be offset by bigger Buffalo wins. The fact that the semi-premium animal symbols also pay when lined up at least two across help for additional smaller wins.
Free Games Bonus
Like always, the gold coins are the entryway into a free games bonus. More gold coins means more spins:
3 Gold Coins: 8 Free Games
4 Gold Coins: 15 Free Games
5 Gold Coins: 20 Free Games
The standard Buffalo rules apply in a number of ways:
2 gold coins provide 5 additional free games. More coins use the same amount as earned upon the initial trigger.
Wilds appear on reels 2, 3 and 4, and will multiple by 2x or 3x. That means you can get up to a 27x multiplier for a win on a given bonus spin.
The uniqueness for Buffalo Chief is the addition of a new coin type. While the normal Buffalo gold coin is on the reels, a second one, which features an eagle symbol, also appears.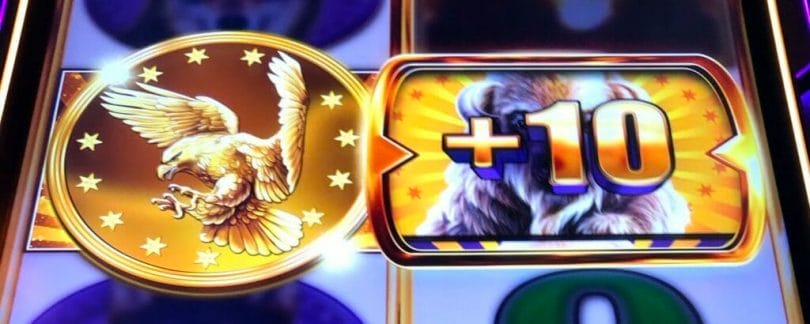 When it achieves a scatter win, as either part of an initial bonus trigger, or a bonus retrigger, a special wheel will spin that has 10 spaces. Each has anywhere from +10 to +50, which is the number of special white buffaloes that are added to the reels for the remainder of the bonus.
Once a space has been landed, it grays out, and once you get more than 5 spaces won, eagle coins appear on less and less reels, and if all 10 spaces are achieved, earning the maximum 250 white buffalo symbols, the eagle coins disappear altogether. Eagle coins contribute to retriggers, so it's an added bonus.
The importance of the white buffalo heads are twofold:
They also match with the regular buffalo heads, so like Buffalo Gold they're increasing the chances of getting buffalo line hits.
If you line up the white buffalo heads outright, they pay even better than the regular buffalo heads.
Buffalo Chief Stampede Feature
On any bought game the Buffalo Chief Stampede Feature can be triggered, which expands the middle three reels to allow 16,000 ways to win (4x10x10x10x4 reel set). Then each reel lands in turn, with an increased chance of Buffalo to land as well. Scatters and the white buffalo symbols are also taken out to reduce the symbol count during this feature.
The chance of the feature happening change with bet multiplier, which probably explains in part the difference in bet amounts on the higher bets, indicating an increased chance of getting it on higher bets.
Overall this game seems like another well balanced achievement by Aristocrat, who have found all sorts of creative ways to expand one of their best known brands.
Watch and Learn
Brian Christopher played the game and got a Free Games bonus:
Slotlady posted a video where she got the Stampede feature:
Here's another video from Slotlady with a jackpot hit and a strong buffalo win as well: