As far as modern games go, Fortune Coin is a pretty well balanced game by the folks at IGT, and reminds me a bit of some of their older games in that the game has the potential to offer some good mid-size hits on a regular basis, but also has some strong potential to pay well.
The game provides sufficient ups and downs to be exciting, but other than a bonus trigger, which like many modern IGT games isn't easy, the coins and progressives come out with enough frequency to keep the game exciting, and with stacked symbols, including wilds, even line hits have good potential.
It's also an all ways pays game, so if you get the symbols even on adjacent rows, they pay, and if you get a lot of stacked symbols, the pays multiply. You can get a 10x win on poker symbols with enough of them, and more with the bigger symbols.
It has a minimum bet of 60 cents, so it's definitely more expensive than the older IGT games, but it has three feature types, all of which add to the activity of the game: A coin collection feature, a progressive bonus and a free spins bonus.
Part of what's nice about Fortune Coin is any time a coin lands, it awards something. No collect six like on Lightning Link or Lock it Link, 5-6 on Mighty Cash, or four fireballs on Ultimate Fire Link. In that way the game offers a different sort of game play as if you collect one coin, you get something for one coin.
Most of the time you get a small coin prize that's a fraction of your bet, but there are coins with 5x or more your bet – $10 coins on a 60 cent bet can come out often enough that you know they exist. You can get anywhere from 1 to 15 coins in a single spin, and they come out reasonably often. Credit prizes are the dominant item revealed.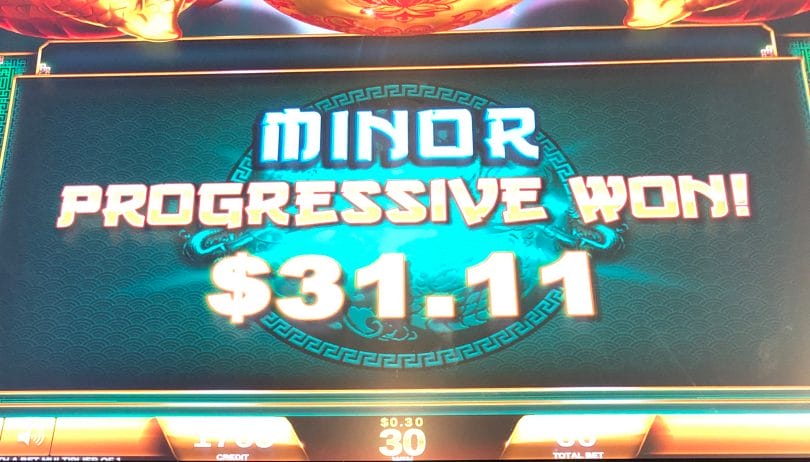 That said, coins can also reveal a progressive picking bonus (predetermined) and free spins. The progressive picking bonus leads you to (usually) one of four progressives, which can be boosted a couple of times as part of the bonus award. There is an Award All but as you can imagine that comes out rarely.
The progressives themselves aren't enormous, and like other games by IGT in this format such as Golden Gecko, that serves to make a progressive opportunity also come out with more regularity than other games with a four progressive structure, and make a larger progressive a bit more likely. Again, this serves to make the game feel different than others.
Finally, there's that free spins bonus, which can be won either by a standard bonus symbol trigger (10-20 spins depending on whether you get 3, 4 or 5 symbols at the trigger), or one of the coins flipping around to reveal that prize (which can offer between 5 and 20 free spins).
In the free spins the poker symbols are eliminated, increasing the risk of a bigger hit with the premium symbols being around and stacked. The progressive bonus is still available during the free games. You can also retrigger (the game has a 1,000 free spin cap; I wonder what the odds of hitting that are).
Watch and Learn
Here is IGT's promotional video for the game:
RandomSlots comes through, as always, with a video that includes the help/pay table information:
TheBigPayBack has a video that has all the game's features: