Aristocrat's Wonder 4 series has certainly thrived over the years, so it's not surprising that other manufacturers have been playing with the concept. I earlier shared my experiences on one of Scientific Games' efforts, Power 4 G+ Elite; today I look at what IGT has introduced, Fortune Link 4.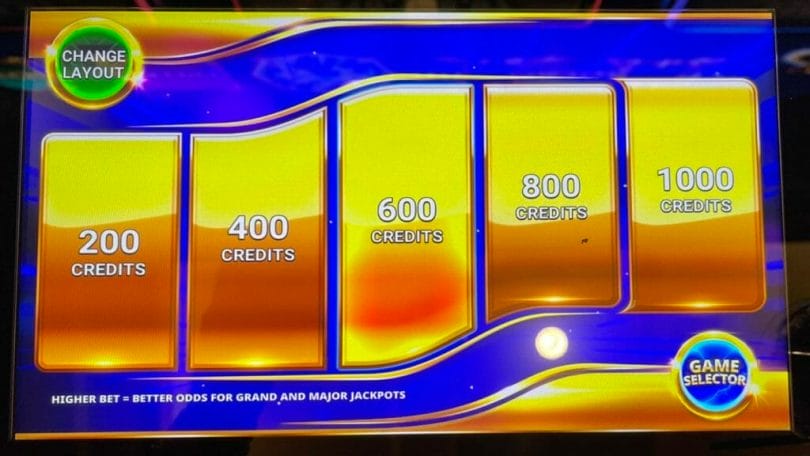 Like the others, this game features 4 reel sets, and you can choose between 4 games on the reel sets. You might notice the lack of choosing how many boards to play, compared to series like Wonder 4 – you must play four boards.
Your bet levels will shift based on which games are selected. All four games offer 20 lines on the base game, but the number of credits, and the reel set, varies by the game selected:
Wolf Run: 40 credits, 5×4 reel set
Cleopatra: 40 credits, 5×3 reel set
Ocean Magic: 60 credits, 5×4 reel set
Golden Egypt: 60 credits, 5×4 reel set
For the latter two games, they do retain their persistent state features, meaning bubbles or coins will stick around at the same bet level and behave as they do on the original game. If you activate only one of the game type, the other three effectively stay as they are until that particular game is activated on a reel set, and play continues.
With only 20 lines available on each reel set, the pays are rather anemic in the base games, with "good" wins often only being a couple of times your bet back.
One nice visual aspect of the setup on the game I played was they let you choose how the reels are presented. You can do the more classic 2×2 reel set seen on many versions of a 4 reel set game, or you can do the stacked on atop the other similar to a Wonder 4 Tower presentation. I find the stacked reels sometimes harder to follow, so I liked being given the option to do a 2×2 instead.
As you can guess by the name, one of the key differences here is the introduction of a Link element. 3 or more orbs on any reel set (a maximum of 5 can appear on a base game spin) triggers the Jackpot Bonus, which regardless of the reel set size on the game you triggered it, will go to a 15 space (5×3 reel set) bonus.
It's your standard link format here – filling all 15 spaces wins the grand, you get three sins, landing another orb resets the spin counter back to three spins, each reel space acts as its own reel, and you can win credits or jackpots. You win all prizes collected once you either run out of spins or get that 15th orb.
The prizes can get up there; as you can see above I managed a $100 bonus on a $1.60 bet, for example. There is also a diamond orb, that will collect all the pays on the screen and save it as an orb, effectively doubling what you have at the time.
Without these bonuses your money can burn quickly, so it does seem like the pays are concentrated in part here. Each game also has a free games bonus which works similarly to their original counterparts, but amongst three of us playing for a good amount of time in a bank of machines, we didn't see a single one of those that I can recall, which indicates some difficulty in getting them to come out.
The main difference on these bonuses, and probably part of why they aren't easy to get, is they're all Super Free Games, meaning four boards are present. Ocean Magic retains its bubble popping element to get games or more spins, but Golden Egypt loses its volatility choice – it's two wild reels per reel set, and you get 15, 30 or 45 free games based on 3, 4 or 5 bonus symbols. Cleopatra and Wolf Run proceed as per normal.
You can theoretically trigger more than one bonus on a single base game spin, and you can retrigger multiple times on a single spin. That said, given the lack of bonuses that showed up during our session, I suspect that's pretty rare, which will make it quite a fun occurrence when it does happen.
Fortune Link 4 Slot Videos
I played this game with The Slot Cats during a live video at Green Valley Ranch, where you can see our session in action:
Here's a video from RandomSlots on the game:
Here's a walkthrough of the game from slot maker IGT: