After having some strong luck on mechanical 3-reel slot machines, I made the decision to give the machines more play for the remainder of 2020 and see how it impacted my overall play at home. This post is mostly going to go over what I did, how it went and some thoughts for those who want to make the most of their casino trips.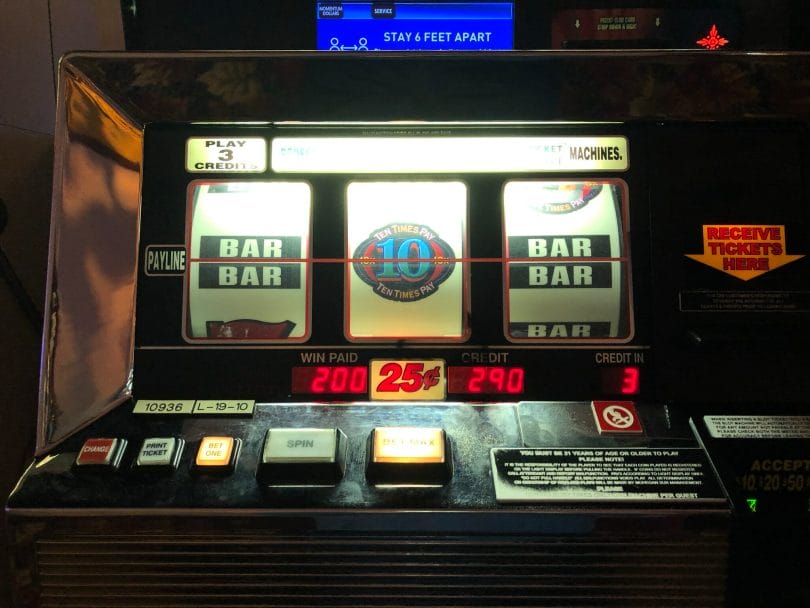 First off, I largely focused my attention on games with a similar bet range to what I was playing on the casino floor. So that means mostly 3 credit quarter/50 cent machines and 2 credit dollar machines. I would occasionally play the 3 credit dollar machines when I was running well, or wanted to swing for the fences ( particularly the Bonus Times game, which I previously split a handpay with someone on, so it remains a favorite).
Second, I looked at the volatility of the various games based on what their top payouts were and how the multiplier structure worked, and would generally favor games that weren't overly volatile. After all, my goal was to see if I could get more mileage out of them, building my overall time at the casino and hopefully my coin-in and offers.
Overall, that does seem to be how things are going. First off, I've seen my offers at all the casinos closest to me increase this year. When I go, I go less often than I used to, with a better budget (because I'm going less), so that's certainly helped out. I also made sure to budget myself more time, because if the going got good, I didn't want to cut myself off prematurely.
One side effect of this is that my trips, which might've been 2-3 hours in the past, were more like 4-6 this year. Overall, I had one truly winning trip, one break even trip, and some losing trips, but with such a small sample size I'm not upset with that outcome, especially with the additional play and comps that have come out of it.
My biggest win in absolute dollars on these types of machines was a $500 win on a $3 bet, which as one of my larger bets was good to achieve. Once again it was on my beloved Bonus Times machine.
I used the opportunity to try a bunch of new games, such as Kool Kat, which I wrote up here a few weeks back.
I tried some older games in Atlantic City during my visit there this fall, which includes playing a 97 percent payback version of Wild Party at Bally's Atlantic City. I tried a lot of older machines, in fact, hoping the older machines would link to higher paybacks overall, and it did seem they paid better over time, although the sample size is going to be small in a situation like this, and I could've hit a tough run regardless of the payback setting.
Another machine at Bally's, a Hot Shot machine that paid nickels, I won more than $200 on a $2.25 bet, which came out of the blue a few minutes after this photo was taken on Wild Party, so it was a nice and welcome surprise.
One thing a player on Instagram lamented is that mechanical reel games aren't as fun. I would say I found myself favoring the more flashy modern games still, but because I had decent luck consistently on the mechanical reels, I would veer back to them a bit more.
Even playing Quick Hit, I put some more time in on the older mechanical 5-reel versions at places like Mohegan Sun and tended to have a good batch of experiences overall on them too.
The biggest challenge I faced is that I tend to have it in my head that if I get ahead, or down and back to even, I want to move on, and these games tend to do that a lot more often than the modern machines. So one area I continue to calibrate is to how to decide how long to play and when to move on. It's a good problem to have, as I don't feel like I get skunked as easily.
Even my most recent casino trip, where I spent the entirety of my budget without any massive wins to show for it, I still got more than five hours of play, got on a lot of different machines, did get bonuses and some line hits along the way, just nothing stellar (I usually get perked up at 50x or so, which happened occasionally, but the 100x and up wins are what I really hope for, and got none). But to go for more than five hours and get to play the amount and level I did, was a good outcome.
However, where this approach seems to really take flight is when I have more breathing room. During my Vegas trip in September and Atlantic City in October, I had more time overall to play – 10 days in Vegas and a couple of days in Atlantic City. I could give mechanical reels a solid round of play – in Vegas I spent hours a couple of evenings bouncing among some of the Mlife properties like Excalibur and Luxor playing a diverse array of old mechanical reels. When you have a few hours in a local, that time can feel compressed quickly.
So, as this is being written, I'm preparing for a couple of night stay at Mohegan Sun as part of my normal year end activities. By the time this goes live, I'll have completed that trip, and I plan on giving some more dedicated play to the mechanical reel machines. A further follow up will arrive later this month with some discussion about how that went, but with their pretty strong selection of mechanical reel machines I hope to see how it goes in a more sustained setting.