Scientific Games has recently extended its Zeus line of games with a new series, Power Link, which features both a Zeus and Neptune theme to the series.
One interesting element of this game is that you can earn both a Power Link feature and a Free Spins bonus on a single spin, hence today's topic. Slot channel The Slot Cats saw this occur on her debut session on the game series, and images from today's article incorporate screen shots from that video with permission.
There are a number of WMS-centric things going on with these games. The games overall feel a bit like some of the 007 games like Thunderball, in that they have a 5×5 set of reels, each individually spinning, with the ability to stack up a lot of the same symbol for some pays.
6 or more orbs get you the Power Link feature, which instead of getting more spins you get a flat set of respins, like the 007 games. You get a certain number of respins, and then the ability to upgrade certain spaces, just like the 007 chip bonuses. If you land or upgrade to lightning bolts, they spin a reel that contain credit prizes and progressives, similar to the wheel spin on the Zeus Unleashed game.
If you're playing at least $1.50 a spin on penny denomination, as an example, it also upgrades to a more/better bet similar to games like the new Wizard of Oz and Lord of the Rings 3-reel games. You can bet 100 credits for a 2x line bet for standard, or 150 credits for 2x line bets but with the upgrade active.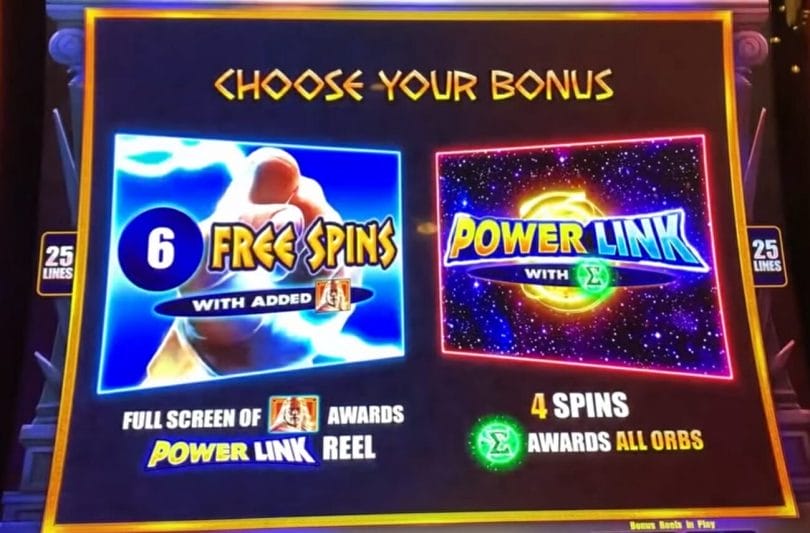 Zeus and Neptune differ in their free spin bonuses, with Neptune having a Sigma Orb symbol on the center space that can collect all of the orb prizes on a given free spin (when the feature is activated with the appropriate wager).
Zeus has a choice between Free Spins with Zeus added or Power Link with the Sigma Orb feature active where it collects all of the numbers when landed. You also get four spins on this Power Link bonus, vs. the three triggering it naturally.
The game is designed that you can both win a Power Link feature and a Free Spins trigger in a single spin; in that case you play out the Power Link feature, then roll right in to Free Spins. So for those players who love the chance of getting multiple features at once, this is another great game to attempt this.
Watch and Learn
The Slot Cats featured Zeus Power Link in this video, which features a single spin with two bonuses (the Power Link feature and the Free Spins):
In a separate video they featured the "brother" game of Neptune Power Link: