Over the couple of years I've been writing entries for this site, I've put together a number of posts on good value bets on slots – games where you can play lots of fun varieties without breaking the bank.
Not everyone can go to the casino and max bet every machine, and many don't want to. So here's a good round-up of ideas on how to make the most of a casino visit while betting on the lower end of the spectrum.
Link Games
Link games are a popular genre of game, and not all are created equal. But there's a few good value bets that can give players bang for their buck.
Original Mighty Cash Versions
The more complex bet strategy of Mighty Cash in its original iterations opens the door to some really good opportunities to up the bet to a nickel or dime denomination, where only 5 Mighty Cash symbols are required vs. the 6 at penny or 2 cent denominations.
Both the nickel and dime denomination Mighty Cash games can be played for as little as 8 credits. That's 40 cents a spin at nickel denomination, and 80 cents a spin at dimes. You can up the coin value to silver for just 4 credits more a spin, or 60 cents / $1.20, respectively, still a great value for those higher denominations.
Lightning Link/Dragon Link
Both games have a similar bet structure in the lower denomination formats, which is 25 lines at a nickel denomination for a $1.25 bet. I know of a number of not big betters who love that sweet spot bet.
At that level you get access to higher Mini/Minor values, but you don't break the bank playing the game to get them. And while they may be harder to get relative to a similar bet on a lower denomination, if you do get them they pay a lot more, making the game more exciting.
Ultimate Fire Link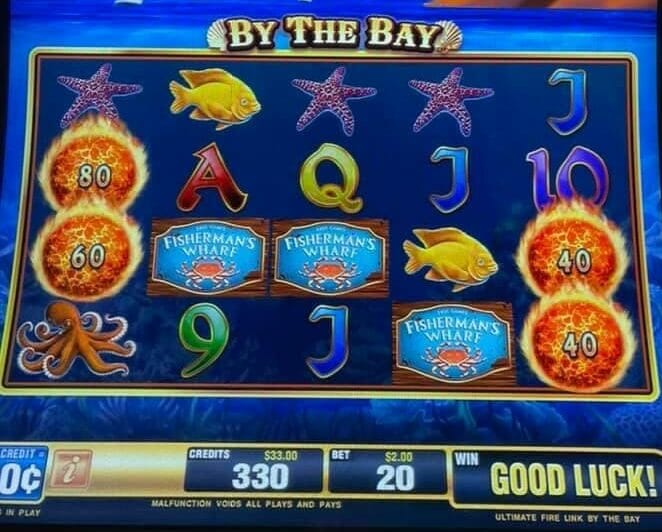 On Ultimate Fire Link you get a 20 line game and access to stronger mini and minor progressives at the nickel denomination level. That makes a solid $1 a spin option for those looking for something with some potential but don't want to break the bank. If you want a slightly larger bet, dimes is similarly 20 lines for a $2 a spin bet.
I've even seen nickel denomination in the high limit rooms at places like Maryland Live!, which were less crowded than the lower limit machines on the main floor.
Other Games
Now that we've cleared out some of the link options, here are some other games that offer good value at a reasonable bet
Wonder 4 Series of Machines
As I wrote about awhile back, many versions of the Wonder 4 series of games have at least one game with a lower bet requirement, many times only 25 or 30 cents per board. That puts you in the $1-$1.20 range per spin for four games all at once.
With four chances to get a big hit or a bonus, it can be a lot of fun when the hits and bonuses are coming fast and furious. And if they're not, the bet level is low enough to ride out the dips and get to more fun action.
And the best part is there's multiple versions of Wonder 4 where this is possible, so you can tinker with many of them to find the best combo to make the bet comfortable for you.
Quick Hit Machines in the $1.50-$2 Range
Many earlier Quick Hit machines default to a 30 credit, 5x line bet for a $1.50 max bet on pennies. I've seen interesting variations such as $1.20 max bet (4x line bet) recently at Casino Miami, or a slightly more difficult 20 line, 10x line bet for $2 max bet at casinos like Foxwoods.
Regardless of approach, because you have to max bet on Quick Hit to get access to the progressives, finding one that fits your comfort level is important. Fortunately, there's so many Quick Hit game types out there now, and most of the time casinos will have at least one or two types that have a $1.50 max bet or within that ballpark.
Quick Hit machines tend to offer a lot of play without breaking the bank, so the series is a good one to seek out.
Quick Spin Series
There's a lot of versions of this game out there now, although by far the ones I see most often are the initial series of Quick Spin games, followed by the newer high limit versions.
The selling point with these games is the wheel spin comes out an average of once every 56 spins across the series of games. This frequent wheel bonus average keeps the game feeling fun and active, with free games also traditionally available on the lower-limit versions.
Many of the games have a 50 credit or 60 credit minimum bet, so on a penny denomination it can be affordable. Betting a bit higher can improve the wheel odds, so that may sway some to play a bit higher, but most machines offer 2x and 3x bet levels, so you can get into the $1-$1.50 range.
They also have a four-board version of the classic Quick Spin that's a $2 starting bet. It's not quite as low as the Wonder 4, but similarly you have the ability to bonus or get wheels on multiple boards at once, a fun side effect of that structure.
Power 4 Series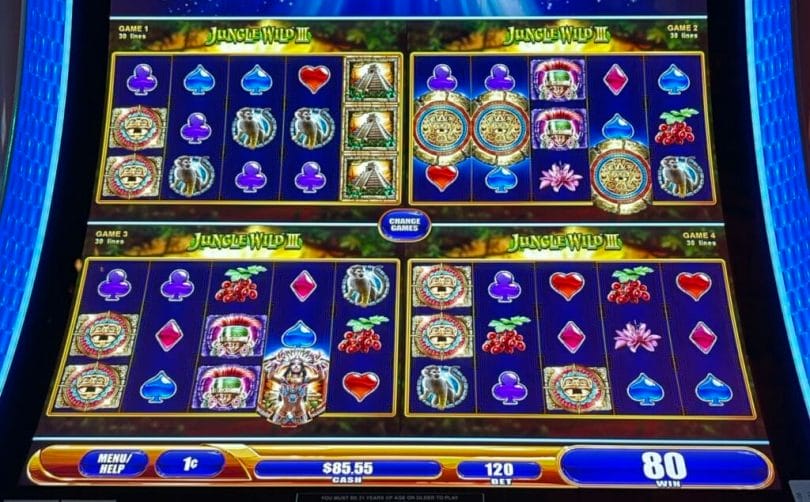 Similar to Wonder 4, Scientific Games has been going big on multi-board games as of late, and they have launched the Power 4 series as a way to compete. Similar to Wonder 4, some games cost more than others.
On the G+ Elite version I recently tried, for instance, four boards of Jungle Wild III works out to $1.20 a spin. The game bonused reasonably often on what's usually a tough game to bonus, I'm sure helped out by having four games rolling at once.
Not all versions may offer a value proposition like G+ Elite, but presumably as more in the series come out, more opportunities will arise, just like Wonder 4.
Video Conversation
Are there games you like to play at a lower bet? Share in the comments!