Last year, with G2E moving to a virtual scenario, I had the opportunity to visit Ainsworth's showroom and see what they had coming up during my fall trip to Las Vegas. This year, I got to visit them at G2E, and check out what they had going on.
Their Quick Spin series has made given them a popular wheel mechanic to leverage, and they do throughout many of their games, but there's some other fun stuff going on as well!
One thing I noticed was the continued stepping up of the creative side of the dial, with games looking particularly good graphically, aided by newer hardware with higher resolution specs. Some of the games are downright gorgeous, and that will continue to evolve, I'm told, so we've got a lot to look forward to in years to come.
Here's some of the games that caught my eye during my tour of their booth; thanks to Mike Trask and Michael Antico at Ainsworth for inviting me to check out their offerings.
Take It or Leave It
Ainsworth has historically performed well with their high denomination games, and some their newer Quick Spin titles, focused on higher denominations, has been a breakout hit. So it makes sense that they've leveraged that game and iterated it to offer something more, leveraging in the process a new cabinet with a curved screen, upgraded graphics and sound. There are three themes, but the basic idea is the same.
Take It or Leave It keeps the same 9 line format, adds a progressive when betting max on lines 5 through 9 (so 5 line players can qualify on one line, but 9 line players can qualify on 4 lines. You win the progressive by lining up the multipliers on the eligible lines at max bet, but the multipliers also amp up the volatility by offering bigger line hits.
The bet panel is largely similar to the previous high-denomimation Quick Spin games, with some casinos likely to offer as much as $45 a spin.
The wheel bonus has also been evolved to now be offer based, and is triggered getting three Take It or Leave It symbols on a payline. The wheel is still designed to come out pretty frequently, consistent with Ainsworth's traditional wheel model.
When the bonus is triggered, you are given up to four chances to spin the wheel. Each spin, one to five arrows will light up, and you'll be offered the sum of the prizes that the arrows are pointing to. You can choose to, as the game title implies, Take it or Leave It. If you go all the way to the final offer, you keep what the final wheel spin yields.
Like other slot machines with offer-based bonuses, the game will let you know when it's a solid offer by indicating so on the screen, allowing you to either take the offer and follow the mathematical recommendation, or ignore that and go with your gut.
Take It or Leave It Videos
Ainsworth shot product videos for some of their games on the G2E floor and in their studio, and posted them on their YouTube channel, so they'll be featured in the article when available. Here was their walkthrough of Take it Or Leave it!
And here's a trailer for the game series:
Cards of Cash Feature
Another offer-based feature comes courtesy of the new Cards of Cash ante bet on a trio of new games coming soon. The feature is added on to new themes that leverage classic Ainsworth math from popular games, so players who are fans of Ainsworth games will find some familiarity there.
The ante bet adds 25 credits on top of the standard 50 line, 50 credit wager, so it's effectively a more/better bet to buy an additional feature. Some casinos will just have the bet folded in, while others may give players the option to turn that extra bet on or off.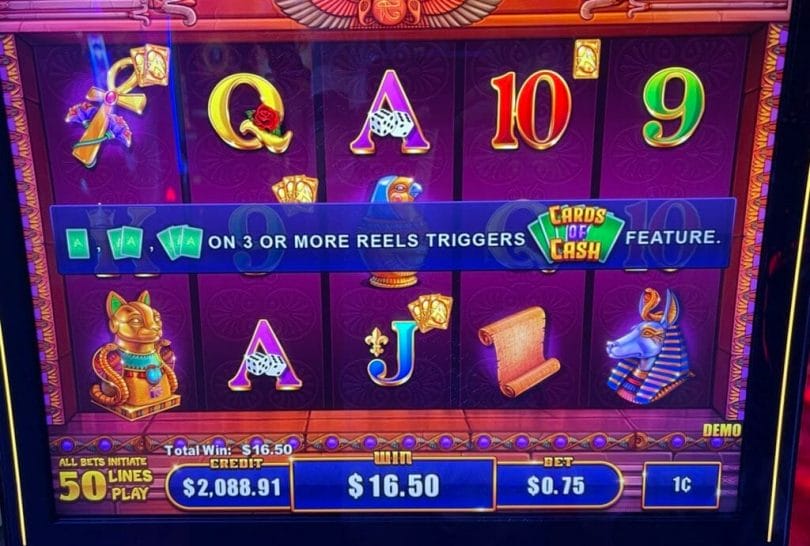 The Cards of Cash feature triggers when three or more reels have one or more playing cards as a sub-symbol on the reels. The more playing cards that appear on the symbols, the more you're given.
This offer-based feature gives you up to three tries. There are four players card types, each with either a range of credits available, or a progressive.
You don't know the precise amounts each card is worth, but you know what types of cards you have. You can choose to keep the cards, or throw them away and hope for better cards. The game will indicate for you when you have particularly good cards.
If you throw them away, it will show you what you would have kept had you accepted those cards. On the last offer, you automatically keep the cards. You can reveal each card individually, or there's a reveal all option.
Cards of Cash adds a fun side feature onto the games and is another fun offer-based option for fans of those types of bonuses.
Jie jie Gao Sheng
This game series, which consists of two titles, Lucky Lion and Fortunes, is one of the newest persistent state games from Ainsworth. The series has two interesting features about it.
One is a multiplier bonus that features progressive free spin meters. This is a mechanism that has become popular among players thanks to games like Farmville and Harley Davidson. Ingots raise the number of free spins when they appear.
However, the ingots will also increase the pays on line hits, and they'll keep growing until a given value, whether 3, 4 or 5 of a kind, is hit, resetting that payout to its baseline.
Because of the pay table upgrade feature, the pay table is shown front and center on the machine, unusual for a video reel slot but a nice touch, and it indicates which pays have been increased via a glow behind the various numbers.
When you land the bonus, you pick from a set of options and you can win regular free games, 2x, 3x or 4x. The pick is a fair pick, weighted most heavily to the 2x option.
Jie Jie Gao Sheng Videos
Here is a game walkthrough from the Ainsworth showroom:
Here is a trailer for the game series:
Quick Spin Growing Wheel
The Quick Spin series has been a strong performer, and the latest iterations have arrived with new multipliers, which build upon the game's traditional multipliers when you get more wheel symbols.
There are now four glasses in front of each of the themes – Mai Tai Money and Bier Bier Bier – and indicate a multiplier for wedges that match the color of the liquid inside that glass. Full reel symbols of either tikis or ladies (depending on the theme), and as the glasses fill, the multipliers grow as well.
Once you get a wheel spin, the glass multipliers are applied to their color wedges, and the wheel multiplier (if more than 6 symbols land) is also applied, and then the wheel is spun to determine the prize. Whichever color wedge is landed, that glass empties and starts over.
Quick Spin Growing Wheel Video
Here's a video of the new Quick Spin Growing Wheel game Mai Tai Money, filmed at the G2E booth:
Tiger's Throne/Panther's Throne
One of two games I saw in the showroom last year, Tiger's Throne (and its sibling, Panther's Throne) have now reached their launch. This game collects borders but breaks out of the 10 spin construct. However, the conclusion still yields all the framed reel spaces turning wild.
The Free Games feature lets you collect sticky wilds on a double size reel set, and multipliers can come out when the animal jumps out to add multipliers to all the sticky wilds on a given reel. Retriggers can allow the bonus to carry on and build into bigger wins as more wilds and multipliers come out.
Tiger's Throne/Panther's Throne Videos
Here's a walkthrough of the games from G2E:
March of the Zombies
Another game I saw last year, which was also on display at G2E, is March of the Zombies. The game is part of the Sliding Stacks family of games. A core feature is a wild stack appearing on the reels, and when it lands as a full reel stack, it persists for a few spins as it moves left one reel each spin, until it falls of the reels.
The game has a pick bonus and free games, offering some additional diversity among the features and bonuses, but that persistent wild is likely to be the thing that gets many excited.
March of the Zombies Video
Here's an overview of the game, shot at G2E 2021:
Other Ainsworth at G2E 2021 Videos
Here's a video produced by Fantini Research showing three of Ainsworth's games at the recent G2E conference: