Konami had a bunch of new games they announced at G2E, but in an interesting twist some of them had already been rolled out and were live at Resorts World. That meant for many of us who were playing over there during G2E, we could actually check the games out on the casino floor.
One of the newer games we saw was Fortune Streak, which had a couple of themes. I shared Debbie Loves Slots' handpay on one of the themes; I tried another, Fortune Elixir.
One interesting aspect about this game, also recently seen on Lightning Dollar Link, is the ability to choose how many lines you want. On nickel denomination, for example, you could choose between 25 and 50 lines. 50 lines costs double, but also has double the lines to win on, which should balance it out.
Progressives and Bonus Prizes
Like many slots, this game features a four tier prize structure. The Mini and Major (their version of the Minor) are flat prizes, similar to games like Lightning Link, but they proportionally increase with your overall bet, as they do on other Konami games like All Aboard.
The chance of winning the Mega and Maxi adjust based on denomination and bet; it's safe to assume higher bets increase your chances, even though they don't explicitly spell it out here.
All of the prizes are available in the Progressive Game feature, where 13, as opposed to the normal 12, pick options appear. Based on this structure, we know it's a predetermined pick. There's three of each option, and the 13th space is for an Extra Progressive Game symbol – you only need that one to trigger another picking round, and you can achieve that outcome up to twice, meaning you can get three picking rounds.
Free Game Feature
Three or more bonus symbols get you free games, with the number of games based on the number of symbols on the trigger:
3 bonus symbols: 1x your bet and 8 free games
4 bonus symbols: 2x your bet and 12 free games
5 bonus symbols: 6x your bet and 15 free games
The free games features mystery symbols that reveal each spin. It can be any of the pay table symbols minus the bonus symbol, and all mystery symbols will reveal themselves to be the same symbol, increasing the chances for pays.
Fortune Streak Feature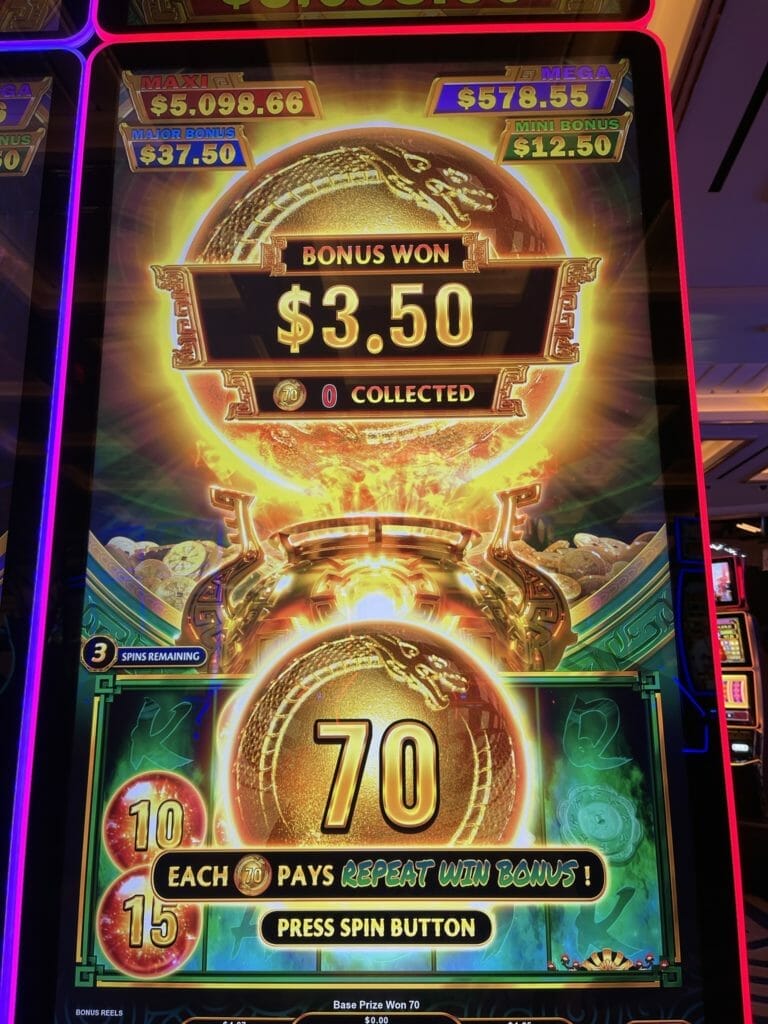 This is the one that got Debbie Loves Slots her handpay. Like a standard hold and spin, you're looking for six or more orbs. Noteworthy is only the Mini and Major (the flat jackpots) are available in this bonus, but it's understandable why once you get into it.
Now, you have three spins to land another orb. If you do, you win the Repeat Win Bonus – effectively, you get your original prize for landing the orbs repeated, including any Mini/Minors in there. The counter resets to three, and you try to land another orb. This bonus continues until you go three spins without an orb.
This bonus reminds me to some degree of the Ta-Da Panda free spins as that repeated prize is the goal, and leads to a more open-ended bonus. In the case of this game, you can't get line hits like on Ta-Da Panda, but that potential of an enduring bonus is still there.
The game was definitely not easy, but it was fun, and worth a try if you see it on your casino floor.
Fortune Streak Slot Videos
Here is a video from TheBigPayback featuring the game and the same theme I played and incorporates all the features the game offers:
As shared in the Debbie Loves Slots handpay post, here's Slotaholic on the same theme starting at 7:02 of this video: