Each year, after the holidays, my partner and I end up taking a couple of nights away to some sort of casino property. It's a quirky tradition we've taken up over the years, and this year ultimately proved to be no exception, despite everything going on.
This year, thanks to offers and a $500 gift card I won on a social media contest, we ended up at Mohegan Sun. We both quite like the property; between the compact layout, the prominent and central location of the main hotel (which we stayed in), and the overall ambiance of the facility. You can read my previous review of the property here.
For this trip, I took advantage of a Friday/Saturday comp that was available (normally I can't get a Saturday at my level of play), and in the main Sky Tower vs. the newer, but smaller rooms Earth Tower. We were given a room on the 30th floor and were able to check in early.
In terms of how busy the property was it was definitely busier than I've seen it in some time. There were times when you had to wait in line for an elevator because of the four-at-a-time ruling (plus one of the elevators appeared to be out of service during our visit). For the higher floors, one of the elevators was re-assigned to the new Aspire hotel-within-a-hotel concept, so that further limited access. However, waits weren't appreciably long most of the time.
The casino floor was definitely busier both of the nights. Compared to other holidays I'd been at the casino since reopening, I don't recall seeing this many machines full. Despite the casinos promising they were running at 25 percent capacity, it did not feel that way, with a lot of groups of people, most of the slot machines available in use (even the less popular ones) and difficulty keeping your distance from other people at times.
While it was certainly good for the casinos to be busier, I ended up giving up earlier than my normal for such a trip both nights and going to bed early vs. continuing to contend with the crowds. On the bright side, I also got an earlier start, and the casino floors were pretty quiet earlier in the day both days, so I was able to get my time in.
Food was one of the more interesting components. We made the decision to eat in the room vs. in restaurants, so we did grab and go or take out for all of our meals. This gave us a bit of an opportunity to relax together as well. But I learned about the new program to allow Choice Credits to be used for dining at certain facilities in lieu of the buffet, which remains closed, and the lounges for most players (I'm at Leap level right now).
So we ended up grabbing two meals using those options, and they were both decent for what they were. Neither of us are traditionally fancy restaurant/sit down people to begin with, so the options at the various food court locations were good enough for this trip for us.
This gave us an unintentionally wider budget, since even if you redeem 100 choice credits for gaming or Momentum Dollars as allowed each month, the other 100 choice credits was enough for a couple of meals for two. In fact, most of that $500 gift card sits unused since we ended up using my earned comps and choice credits for much of the weekend.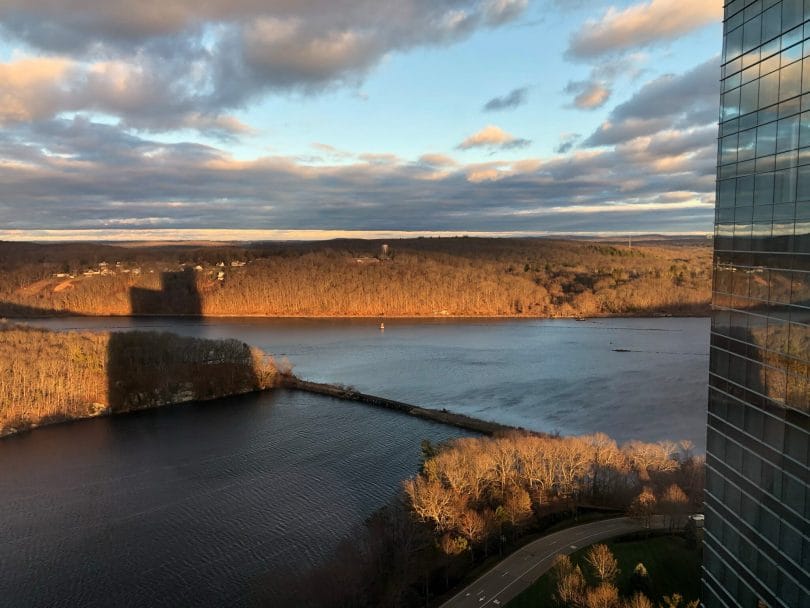 Eating from the room also allowed me to enjoy the room's view periodically throughout the day, which despite some overcast skies opened up to a beautiful view Saturday afternoon. The room itself was comfortable and spacious, as I've always found their rooms; my partner loved the availability of a tub, not just a stand-up shower.
Gambling wise, my trip started off pretty strong but Saturday after mid-day sprung a bit of a leak, although having a good start to the trip meant managing my budget well when things did start to go south. I've spent enough time on the Mohegan casino floor the past six months to say my gambling fared about as it has for awhile – sometimes I can sustain some good momentum, and sometimes I can't. From an average payback perspective the math checks out with their published averages.
I continued to put some time into mechanical reel slots and saw some rewards from it; I also continued to have some pretty good luck on the Quick Hit series of slots, which I've covered here pretty extensively. A couple of the games I have been playing more lately will get some write-ups as slot posts in the coming weeks.
Those looking to avoid bigger crowds will be well advised to go during slower times like weeknights; there weren't any big promotions, just a holiday weekend, and there were still a lot of people there.
Overall it was a nice opportunity to get away without major travel, and with the exception of a crowded Saturday night casino floor (especially ones where people drinking/socializing were playing a bit fast and loose with the mask rules) it was pretty comfortable and easy enough to keep some distance, and we enjoyed the trip.