If the boardwalk in Atlantic City is equivalent to the Las Vegas strip, the marina area of AC is sort of like Downtown Las Vegas – there's an additional cluster of hotels there. However, the investments in those casinos has been more robust, in part because the marina houses the Borgata, which has long been the most successful in Atlantic City, and Harrah's Atlantic City, which has been the top performer of the Caesars properties.
I've stayed a number of times at Harrah's since starting to visit Atlantic City regularly, and quite enjoy the property, even though it's separated from the boardwalk. There's a number of things going for it, and if you're able to be patient, ways to make it to the boardwalk.
Let's dive in to what Harrah's Atlantic City has to offer.
The Casino Floor
This is a sizable plus to Harrah's – the casino floor is pretty massive. As a result, there's ample amount of slots, video poker, table games and so on with a strong mix of both older and newer titles. They've done a great job here keeping a balance, unlike in recent years at Bally's where they've taken a lot of the old games out.
This means you'll find some of the latest and most popular titles, but can also find some old school WMS games and so on in decent volume. This is one spot in Atlantic City I'll favor when I want to seek out some of those older games, because they just can't be found elsewhere in the city.
The high limit room is also a decent size, with a good variety of options for those seeking higher limit gaming.
The amount of video poker there is pretty strong – there's a couple of sections with the games and a good mix of game types. They have game types I haven't found at Bally's, and Caesars, while having a solid video poker section itself, is missing a few types that Harrah's has.
Harrah's has about 2,200 machines, with a lot of variety within that, and has all the expected table games. Table minimums are average for a Caesars property. I've played craps at the $10 level virtually every time I've played there. While Wild Wild West offers lower table minimums, Harrah's is just what you'd expect from them.
Hotel Rooms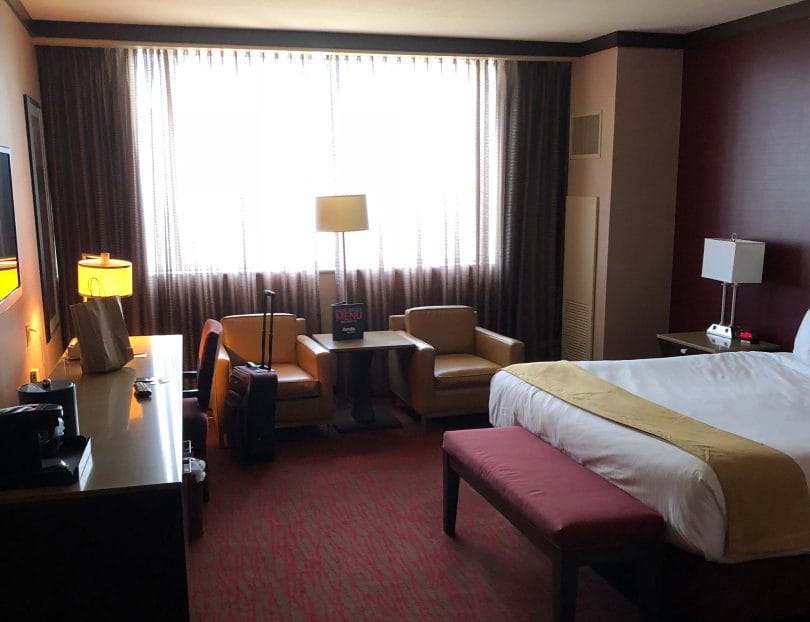 As I write this Harrah's has completed its latest room remodel round, and it's to brand standards that match such other markets as Las Vegas and Laughlin. That's nice in that you have some consistency when you go and know what you're getting in any of the markets.
Unfortunately, I have not stayed in one of these rooms yet in Atlantic City. My last stay, I was assigned to a tower that wasn't renovated. Due to a room issue, they then moved me to another tower, also with an unrenovated room. (The trip was a bit of a disaster as well; the WiFi went out for a day and a half, and I was attempting to work from the room at the time.)
That said, even the older feeling rooms are fine, although you can see the age shining through a bit. The only downside is I've never gotten great room WiFi at this property; it hasn't been as problematic elsewhere, but here it's been consistently mediocre.
If you want to get access to the newer remodeled rooms, look for the Bayview, Laguna or Coastal towers – all are updated to the current Harrah's brand standard.
Comp Program
Harrah's is part of the Caesars Rewards program. If you're Diamond, you qualify for no resort fees on your room, comped or not. This is a leg up over many of the other casinos in AC where you are liable for resort fees regardless of whether a room is comped or not.
Caesars Diamond level can be matched by many of the casinos in Atlantic City, so it's a good tier level to have, and since it can be matched by Wyndham Rewards, there's plenty of ways to get there.
Other Thoughts
During a visit awhile ago I took a walk from Harrah's to Borgata. It was a nice walk, a good chunk of it by the water, and I realized that in some ways the walk wasn't unlike the one on the boardwalk, which gave me a newfound appreciation of the marina area.
Of course, it's disconnected from the boardwalk, so that is a negative. You can drive over to the boardwalk area in just a few minutes (and if you're Platinum level or above, can park free at Caesars or Bally's), but they also offer a shuttle that runs between Caesars and Harrah's. As of this writing the shuttle also now stops at Tropicana, a result of the completion of the Eldorado-Caesars merger.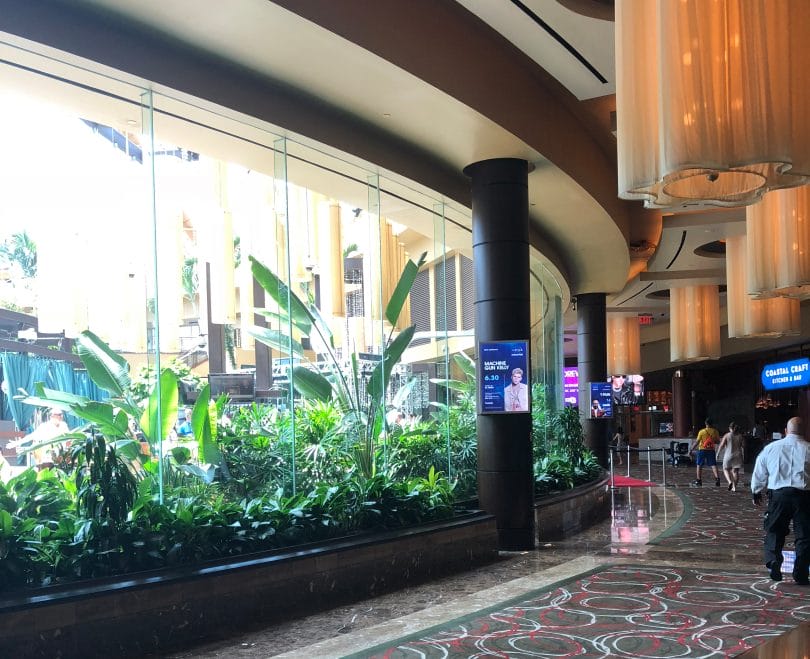 If you're a fan of indoor pools, that's another big selling point for Harrah's is their domed pool, which means year-round pool access. Nights, especially weekend nights, the pool area transforms into more of a clubbing scenario (at least it did before COVID-19), but there was still plenty of enjoyment for visitors during the day.
The food options are decent, although a bit sparse (in my opinion) for a property of its size. There's a small food court-type area with two options, a 24-hour grab and go area, a few restaurants, a buffet and a burger joint with both sit down and takeout options. There's also a Starbucks.
Overall, I enjoy the property, although I've had some of my worst casino hotel moments there in terms of service and issues (I've forgiven and forgotten for the most part). It's a good place to find slots, to find a comfortable room and to settle in if you like to play where you stay, but you still are within reach of the boardwalk.