I participated in a video that's led to a bit of an ongoing conversation around value bets for lower limit players, but one consistent point that's come up in the conversation is the "hey, what about us" sort of comment about the true low limit players – those playing at under $1 a spin.
Most slots still clock in under $1 a spin to start, but as bets are growing the ability to really push bets down isn't nearly as simple as it used to be, and it can make things tougher for players trying to stick to a tight budget.
So today, I'll go over things to look for, and in a post coming up shortly, I'll make a few game recommendations as well.
Older Slot Games
As a general rule, bets have crept up over time. It's understandable why – the cost of everything has gone up, and so casinos need to raise the overall bets over time to keep pace.
But casinos will keep older games around that are popular, and sometimes keeps older machines around for the simple reason that they can't afford to replace all the machines constantly, so some percentage of the old machines will survive awhile.
Older games will many times have a starting bet of 20, 25, 30 or 40 cents, compared to games today with 50, 60, 75, 88 cent bets and potentially more.
While it may be fun to play the shiny and new games, those come with a literal cost premium over older games. And an added bonus of older machines is they historically tended to have a lower volatility, making budget swings a lot less drastic.
Choice of Lines
Another way you can drive down the potential bet cost is to have the ability to choose how many lines to play. This feature is not offered nearly as often today as it was in the past, but there's going to be games in the casino with this opportunity.
A game like Stinkin' Rich has 100 lines and so the minimum bet is $1 to cover all 100, but many installations let you choose how many lines to play, and you wager 1 credit per line. So if you choose 50 lines on a penny denomination, that works out to 50 cents a spin vs. the $1 on all lines.
Many older machines would have multiple buttons for line counts, or controls on screen to bump up or down the line count, so that puts another point in favor of older machines in that realm, but there are some small percentage of newer machines that offer this still as well.
Number of Gold Symbols
The 88 Fortunes/5 Treasures/Dancing Drums style machines have a concept of gold symbols, which I went into in pretty good depth in my Dancing Drums write-up. By lowering the number of gold symbols, you do lose access to the very hard to get top progressives, but you also drastically scale back your overall bet.
If you drop to one gold symbol, all the premium symbols are no longer gold, and you're playing a game that basically chases the gold coin as a premium symbol, but you have the ability to do so at as little as 8 cents a spin. I cover extreme low rolling on Dancing Drums, as well as sister game 5 Treasures, if you want to dive in a bit more deeply.
Disable the Feature Bets
Many games come with an additional feature bet, which can make features or bonuses occur more frequently, or pay for a secondary game on top of the primary one, in the case of games like Konami's Treasure Ball series.
These are effectively side bets – you're paying more for a more active machine. But the games inside the Treasure Ball series are available on their own without that extra bet. And the games with the add-on feature bets can be played for a lower wager without them. You can expect the overall payback to be the same, just since you're wagering less, you'll get less bonuses to win money back.
It might sound like a bad trade, but when these feature bets can easily be 50-100% more than your base bet at times, it can really put all the emphasis on the bonuses since you're paying more to try to get them.
Quarter Denom Mechanical Reel Games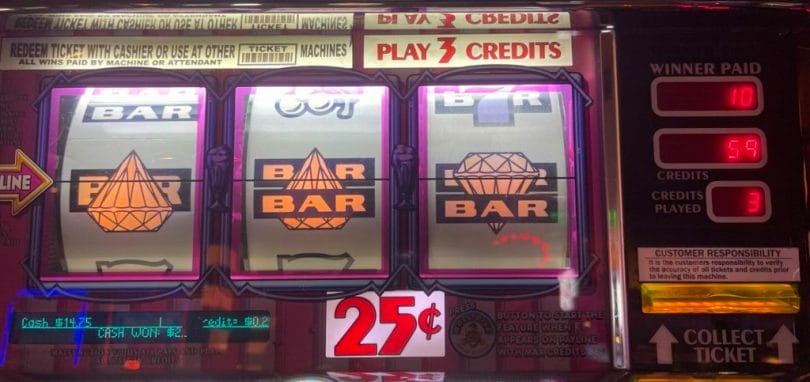 One last thing you can do is hunt out quarter denomination mechanical reel slot machines. Many are 2 or 3 credit games, making a spin 50 cents or 75 cents.
One benefit to this is quarter denomination games will tend to have a higher payback, as casinos tend to set payback based on denomination, with each step up paying a bit better.
The other is that many of these machines don't have distinct bonus rounds, so they tend to have better line hits given all the money is found in them. Those games that do have bonus rounds, you're usually seeing one credit contributed to the game for that bonus, not unlike the feature bets described above.
As such, even though the bet is higher than some of the other options talked through above, you can find some lower volatility options that can give you good runs for your money more often than not.