With the first anniversary of the site just a couple of days away, I'm taking a look back at some aspects of the site that readers will find helpful. Today, I'm looking at the articles you've found most helpful over the past year. I've bucketed them by category in case you are looking for something specific.
Slot Tutorials
1. Understanding Dancing Drums
The Dancing Drums slot machine is a game that's had enduring popularity, and my post explaining the bet types on the game has proven helpful to many. More recently I've done comparisons to Double Blessings and Dancing Drums Explosion.
2. Understanding Mighty Cash
Similarly, my walk through of how the Mighty Cash game series works has proven helpful to many. Lots of the games let you control how much you bet into the Mighty Cash feature specifically, and therefore find that helpful to managing their bet size. More recently I've reviewed the Farmville and Madonna versions, both of which have persistent state elements that can grow over time.
3. Does Seeing Balls in All 15 Squares of Lightning Link Guarantee a Jackpot?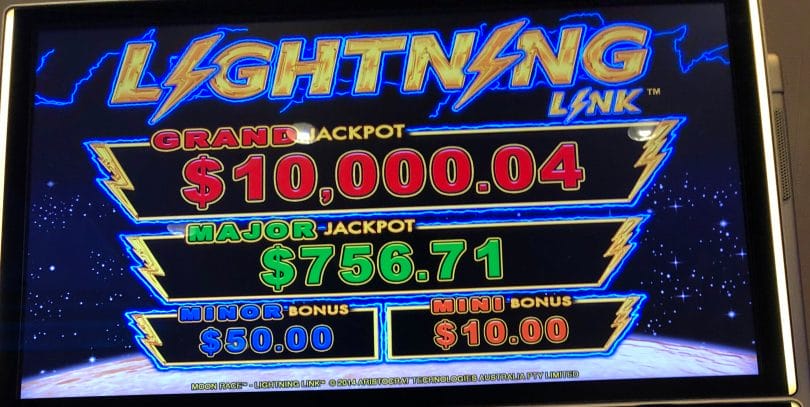 There are few players who have seen a Grand jackpot on Lightning Link in person, and until recently there weren't any videos on YouTube that captured it from start to finish. But I was able to use video evidence to get an answer to the question of whether seeing balls spinning in all spaces during the Hold and Spin bonus guarantee a Lightning Link Grand jackpot.
4. Ways to #landthegrand or Major Jackpots on Lightning Link and Dragon Link
Lightning Link and Dragon Link are near clones of each other, and as such the ways to win a Major or Grand jackpot on either machine is basically the same. As you can see by this thread, the link style game content is definitely among the more popular on the site – I think that's natural when you consider the games themselves are quite popular in the casino.
5. Is the Smokin' Hot Stuff Wicked Wheel Progressive Pick Predetermined?
This is one of those ones where many players want to know the answer, because what happens flies in the face of commonly held practices in the slot development community. Here I explain why the progressive pick on Smokin' Hot Stuff Wicked Wheel is predetermined, despite a reveal that indicates your pick somehow provides control over the outcome.
Understanding Comps
1. Birthday Free Play in Las Vegas
People like to enjoy freebies, and a lot of places like to throw out some small gifts to those celebrating their birthday. This includes the potential for free play for your birthday in Las Vegas. This post shares some places that offer free play if you're out there at the right time.
2. Earning Free Cruises with Royal Caribbean
I went on my first cruise in March of 2019, and immediately began to see value in how Royal Caribbean makes available complimentary cruises. My piece on how to earn free Royal Caribbean cruises has been popular since it was published.
3. Why You Should (Almost) Always Use A Players Card When Gambling
Players Cards hold a lot of value for casinos thanks to the data they provide, but they also hold a lot of value to the player, when used consistently at the casino. This article dives into why you should always use your players card, with perhaps an exception.
4. A Former Caesars Host Shares Comp Tips
The way a comp program runs can be complicated, but at the end of the day there's certain mathematical formulas that take precedence. A former Caesars host shared some of their thoughts about comps on a forum awhile back, and their tips can be valuable for players hoping to get a better understanding of how they are rated and how their comps are derived.
5. Tier Matching in Atlantic City
Atlantic City is one of the most competitive casino markets, in terms of the diversity of the competition, further fueled by the opening of two new casinos in June of 2018.
As such, there's all sorts of promotions that run to encourage players to check out a different casino instead. One of the most common is a tier matching program. While the article I posted is due for an update when casinos reopen, much of the information was still relatively accurate up until the casino shutdown. I expect the market will continue to be fiercely competitive when the casinos reopen.
Mobile Apps
1. Wynn Slots App Changes Analyzed
One of the earliest articles I wrote about related to the Wynn Slots app. When I first launched my site it was one of the most enticing and beneficial opportunities, with the ability to earn complimentary nights at the Wynn. The changes that have been introduced to the Wynn app over the past six months have basically neutralize that benefit. The articles remain popular in part because the discovery of the app and its benefits exploded over the past year, but I expect that to slowly die off now.
2. Wynn Slots Launches Buffet Reward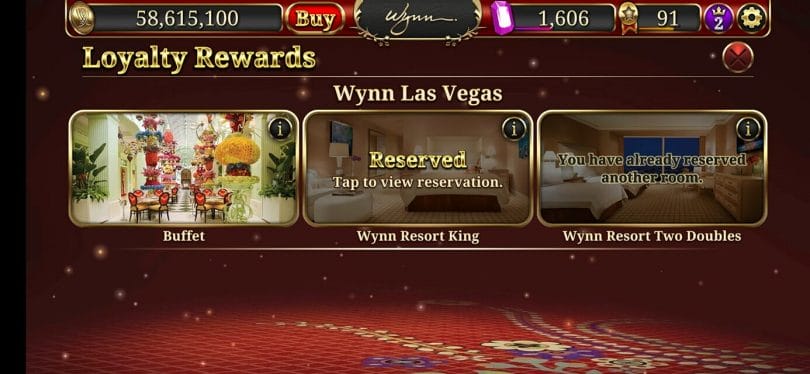 In the midst of all the devaluations and negative changes, the main positive was the addition to be able to get free Wynn Buffets with your gems within the game. You can get one or two buffets at a time for a given day, with up to 10/month depending on your VIP level.
3. Binion's Casino App Introduction
The Binion's app is a bit of an odd duck among many of the others, in part because it's a downtown casino and the way you earn comps is a bit bizarre, but ultimately it works for players who are fans of downtown and hope to get a little something extra out of it. The Binion's app was thoroughly reviewed early in the first year of the site.
4. Slotomania by Playtika
The Playtika apps give you no way to earn comps without making purchases, but they're still tied to Caesars Rewards, meaning when you do make purchases your'e collecting comps that can be redeemed at a variety of casinos. Slotomania's app is perhaps their flagship, and has quite a bit going on.
5. Making the Most of MyVegas Comps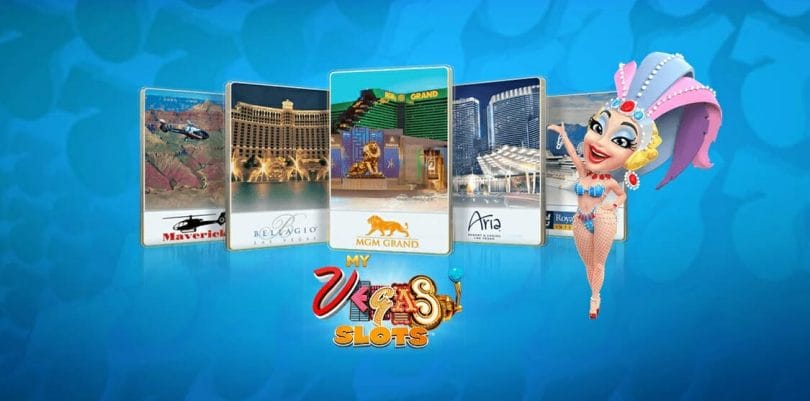 The MyVegas series of apps is linked to MGM nationwide, and as such offer a variety of comps you can redeem at their properties. But they also have third party companies they work with, reaching beyond MGM to offer even more perks. As such, it helps to strategize how to make the most of those comps, both earning the Loyalty Points that help you gain those comps, as well as redeeming for the right combination of items.
What Information Did You Find Most Valuable?
Share with me in the comments what information you find most valuable on the site, and it'll help guide what comes next!