With the site's one year anniversary upon us, it's a good time to summarize some topics that have been given a lot of coverage here. Let's start with the top machines to spot Advantage Play opportunities, culling from the list of reviews that have appeared on the site since launch.
At this point I've evaluated more than 50 slots with some form of Advantage Play potential (as well as a couple that throw players off by implying one when it's not there).
The vast majority (including four of the top five below) have been developed by IGT, which has certainly developed the most prolific series of games around persistent state reels that goes back to the GTECH/Spielo days. However, other manufacturers are getting in on the action, and I expect that to continue to proliferate over time.
Some are better opportunities than others, so here's the five best, in my opinion, out of those I've reviewed.
5. Wheel of Fortune 4D
When I first reviewed Wheel of Fortune 4D, I accurately described it as a tougher version of Golden Egypt, with a higher bet level, lower chance of getting an actual free spins bonus because of the wheel requiring you to land it (and being forced into the most volatile option Golden Egypt had automatically), but having a jackpot feature also being available. So why does it keep Golden Egypt off the list?
The wheel bonus comes out a lot more often than the Golden Egypt bonus, offsetting the free spins issue.
People play this game a whole lot more, meaning SO many more opportunities.
This game has popped up everywhere, even on my recent cruise!
The opportunities are so much more, and many times so much more lucrative. The screen above is one I found on a trip to Las Vegas in December. Even though the game is harder, there's just a lot more opportunity to find Advantage Play scenarios and lock in some profits on the quick.
4. Golden Egypt Grand
Golden Egypt Grand also gets the nod despite being a sequel. The setup of the game keeps the betting options exactly the same, unusual for a sequel, but creates scenarios where the middle reels can be longer than its predecessor, meaning bigger potential on the middle three reels.
Otherwise the game keeps all of the same features, including the bonus, which means in many ways it's an improvement to its predecessor. Nicely done, IGT.
3. Golden Jungle Grand
By comparison, Golden Jungle Grand is a sequel that breaks format from the original Golden Jungle, which was, like Golden Egypt, collect symbols and get wild reels. In this case, you still collect symbols, but you have a 10 cycle limit, similar to the Scarab series of games, which will be coming up in a bit.
With the 10-spin limit, the number of Buddhas to collect goes down to 2 for this version, and you're hoping to get as many reels wild as possible by spin 10. But the spin cycle restriction makes it very easy to see if a good cycle is in progress or not, and makes it very clear how much you have to spend to see it through.
2. Super Lit Vegas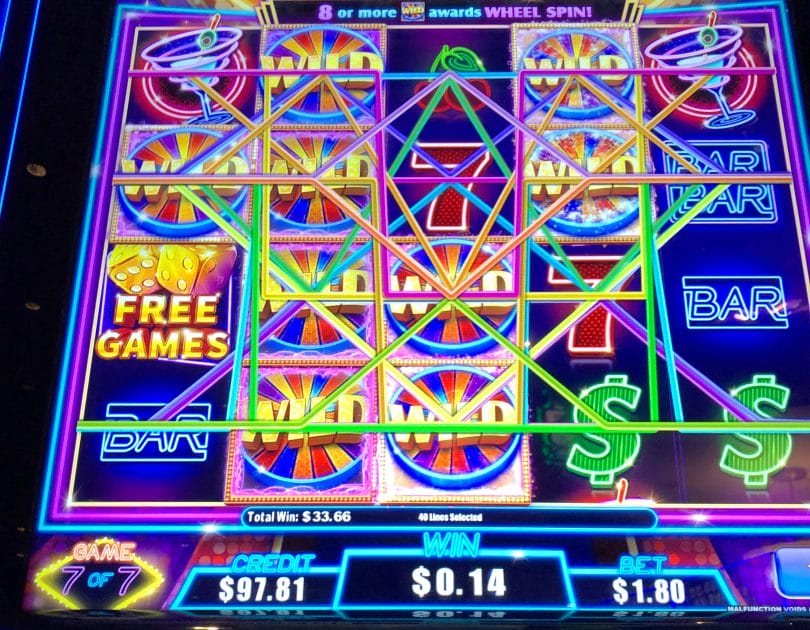 Super Lit Vegas is a persistent state game by Ainsworth that combines the collect borders concept that games like Scarab have popularized with the wheel spin model seen on Quick Spin, one of my favorite game series in the casino right now.
The 7 spin cycle's even shorter that Scarab, but the possibility of a lot of wilds and a wheel spin with a multiplier open the door to additional potential based on what's been collected. Here, it's not just the placement of the collected symbols for line hit potential, but the quantity of symbols, because a lot of collected spaces can lead to a higher wheel spin multiplier.
The Free Spins bonus gives you more spins to collect those borders and get a wheel, meaning a lot of potential is found there too while collecting the obvious Advantage Play opportunities found on the reels.
1. Scarab
Scarab was the very first Advantage Play machine we reviewed here, and for good reason: The game is easy to understand, with very defined parameters for what makes for an Advantage Play opportunity. It has a clone, Diamond Mania, but both work the same way.
With a 10-spin cycle, the cost to complete a cycle is always defined before you place a single wager – you know what your investment must be to complete the cycle. You can clearly see how many wild spaces have already been collected, and what your baseline will be. Each bet level has its own opportunity, and on a multi-denomination machine you could easily have more than a dozen opportunities.
Scarab Grand, as a sequel, tries to carry forward the model but by adding a top jackpot, a bigger reel set and a higher minimum bet, it proves to be tougher than the original. Thankfully Scarab is a popular game in casinos, and as such is widely available.