As a follow up to my piece on things to look for on a casino floor to find lower betting opportunities, I also wanted to take the time to recommend a few games that fit into one or more of the categories I shared.
Many of the games highlighted here have been carried forward in newer machines, so it's not necessarily hard to find many of these games. But they all offer opportunities to play at a lower bet.
1. Triple Double Diamond Free Games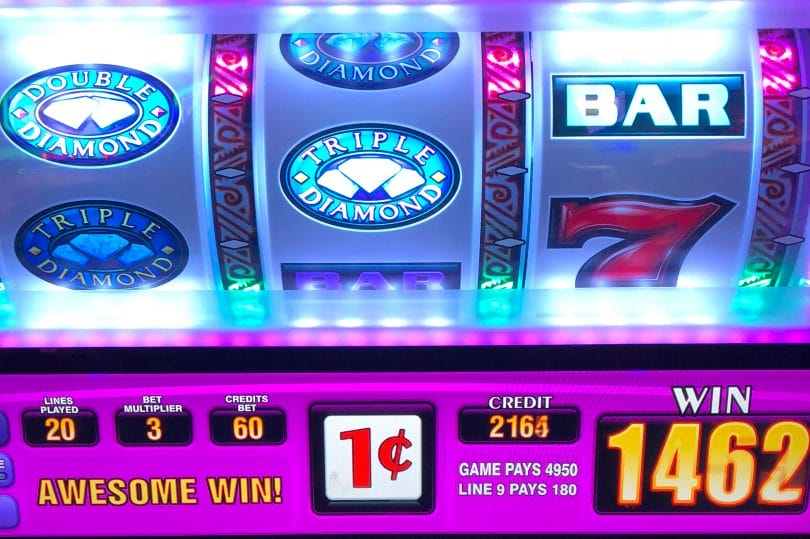 This IGT mechanical reel classic Triple Double Diamond Free Games has been kept up on the modern casino floor thanks to it being redone on their newer reel machines. The game is a 20-line game and in its earlier incarnation was a 20 cent spin at penny denomination, although the newer games tend to be set up with a mandatory 2x line multiplier (which is still quite reasonable at 40 cents a spin).
The game has a free games component when you land free games in scatter form across the three reels. That triggers 12 spins with double the pays. The game tends to be able to deliver some consistent and sometimes sizable line hits thanks to the mixed symbol pays, the multiplier wilds and the low top prize amount. The game is on the lower side of the volatility scale as well, great for keeping things going.
2. Goldfish (Original)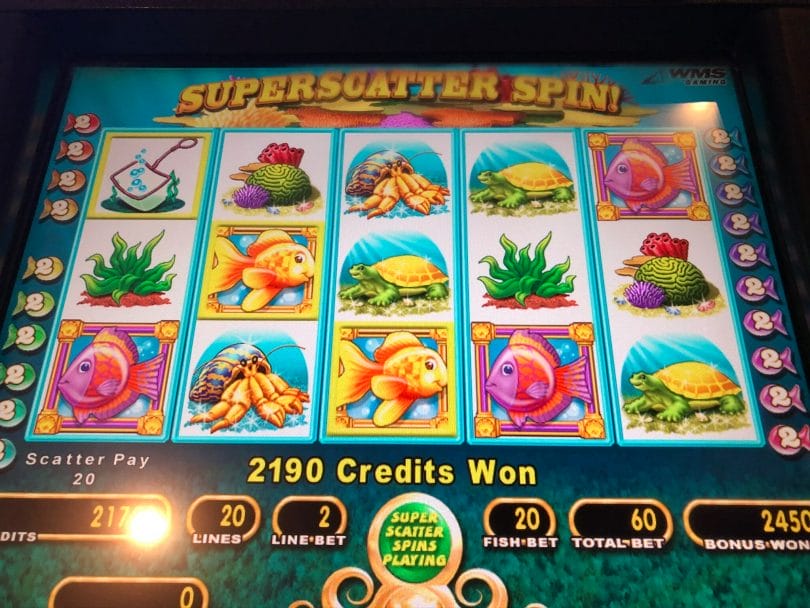 The original Goldfish slot machine is one that offers a lot in a small bet sized package. This is a game with a feature bet you can probably leave in place, because it's 10 credits above and beyond the line bet to get access to those regular features, which on this game tends to be pretty active. So a 20 line game costs 30 credits (30 cents on penny denomination), and 25 lines costs 35 credits.
This is another game that has good line hit potential along with good feature potential, and a free spin bonus with a multiplier that can really amp things up (although by far it's the hardest bonus to procure).
One nice thing is the game has been more recently remade, and the bet levels weren't spiked in the process, but given how old the original was, it's possible the payback range was widened, giving casino a more modern set of selections (the original had a tighter, and more pro-player, payback range, as did many games of its vintage). So if given the choice of playing the original vs. the remake, I'd opt for the original.
3. High Voltage Blackout
High Voltage Blackout is an Everi title that has a bonus and a feature, but at 30 cents a spin at minimum bet on penny denomination is also a very accessible game.
The game features a respin feature found on some Everi games that gives you a win equal to or higher than the previous spin, and multiple respins are possible (and common) when the feature comes out.
The picking bonus gives you the chance to pick up some decent pays, with bonuses for completing a row of the city that can really bolster your total.
4. Buffalo (Original)
Aristocrat's original Buffalo game is pretty straightforward compared to all the sequels that have since followed, but the fact is at a 40 cent minimum bet, you get the same basic paytable as you do on a 75 cent Buffalo Gold Revolution spin, so those big Buffalo line hits really amplify when your bet is halved.
Many times when I sit down and play these, I get something pretty special and I am reminded why this series is so popular, but even with less bells and whistles the original has a lot of potential. You can see a great example of a nearly 70x line hit that I got playing it last fall in the picture above, and that's just one of a number of examples even in just the last year that I've had.
5. Cleopatra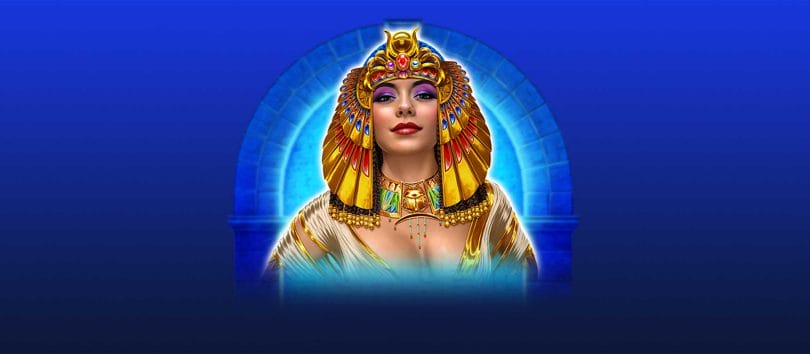 Cleopatra is another old school game with 20 lines that tends to stick around on casino floors. The original Cleopatra isn't the easiest to find in penny denomination anymore but it's still out there enough that makes it a good recommendation.
The game can also be played at less lines in nearly every case I've seen, so if you want to lower it down you can, perhaps with the goal of also raising the line bet so line hits you do get pay more.
6. Dancing Drums
Dancing Drums if my favorite game to play with the one gold symbol method, because you can get some pretty strong line hits off just the gold coins when you bump up the line bet and focus in on that 8 credit, one gold symbol option.
As you can see by the picture above, it doesn't take a particularly large number of coins to get a 100x line hit, and the coins are prevalent enough that these hits can carry you along.
This also makes for a good low rolling in high limit scenario, given you can on dime denomination get something going on just 80 cents a spin.
7. Money Frog
The Everi game Money Frog is, similar to High Voltage Blackout, a more modern game without the ability to select line counts and so forth, but at a 30 cent minimum bet it's also quite affordable. And with a bonus round that includes the ability to get stacked wilds with multipliers, when things line up just right it can pay quite well!
Being a more modern title on a cabinet featured broadly in casinos, it's not a tough game to find, which may make it a more realistic go to for many players.
8. Double Diamond
Double Diamond is a great example of a lower volatility, quarter denomination slot. Its top payout is about 800x your bet, it has no bonuses so all the pays are in the line hits, and it features multiplier wild symbols to bump up the pays.
The game is seen in either a 2 credit (50 cent) or 3 credit (75 cent) option, which keeps it in that sub-$1 range, and I've had many, many sessions where I put in a $20 bill and it just keeps me going.
Despite the game's age, it's still around on casino floors all over the place, and it's been remade for more modern cabinets too.
9. Quick Spin Super Charged 7s
Quick Spin Super Charged 7s was on my value bets list, but also falls on my low rollers list because of the frequency when my budget was tight to sit and play with $20 and many times find myself playing for a long time.
I most recently did this in January, waiting in the airport for my flight to begin boarding, and spent a half hour noodling with $20, cashing out ahead when all was said and done. While the wheel odds improve on higher bets, the game is still quite accessible at the minimum bet of 50 cents a spin on penny denomination.
Video Version
I recently spoke about these options with Matt Bourie of the American Casino Guide on their YouTube channel – take a look: