It was a busy year in 2021 for the site and myself; I spent less time in casinos, but concentrated my budget for trips. I continued steps like playing more mechanical reels and video poker. My average bet was a bit higher this year as my per trip budget was also higher, but the year started out quite underwhelming overall.
But starting in July, the second half of 2021 picked up where the later part of 2020 left off. When I built my list of biggest wins so far about a year ago, two of them were from my just completed Vegas trip. If I were to build the list today all five of my biggest wins of the year would take over spots on that list.
With only a few days left, I think it's safe to build this list now, but should I manage to pull out another win before year's end, I'll update the post. I'll start with some honorable mentions, and then build to the top spot.
These are ranked by overall dollar amount win, but everything in here is at least 100x, and most are well above that.
Honorable Mention: Fairy's Fortune
Fairy's Fortune is an old game but with a lot of potential. I got a 25 spin trigger, and some really good upgrades happened to yield a more than 350x bonus. This was a low rolling trip that I won this on, so to be able to snag a win like this was very helpful to keeping my budget afloat.
The dollar amount may not be that impressive to higher betters, but I think it's important to recognize big wins relative to the bet, and this one certainly qualifies. As I've said before, anything 100x and up tends to be pretty significant playing slots, so it should be celebrated when it happens!
Honorable Mention: $1.50 Quick Hit
Speaking of 100x wins, I did have a lot of them in my camera roll from $1.50 Quick Hit machines. I do tend to play the $1.50 Quick Hit games frequently, but as you can see above, they also do seem to treat me well often enough to keep playing them. These are a half dozen examples of the 100x or larger wins I got off of them this year.
Honorable Mention: Buffalo Link
Link games and I don't tend to get along often, but Buffalo Link has been OK to me, particularly on this night at Agua Caliente Rancho Mirage where I got a 200x spot to drop. (My neighbor did too, although on a $10 bet, so the win was proportionally larger.)
Without those extra large numbers dropping on occasion, it's tough to get much momentum on the hold and spin bonuses for this particular game.
Honorable Mention: Jungle Wild
While I've had some good bonuses on Jungle Wild over the years, this may be one of the best I've had, while playing at OYO Las Vegas. The wild reels lined up in the right spots, and extra wilds came down generously throughout the bonus.
This was the pinnacle of successively better bonuses as I played the game (I had put in around $50 to start things off). A few minutes on this machine recouped virtually all of what I had put in that evening, so it was a great rebound on a fun night.
#10: Rakin' Bacon
I've been giving this game some attention, although I find it a bit on the tough side for me. All three hits featured here came from the same bank at Mohegan Sun's Virgin Las Vegas location during my stay there.
The two hits seen above came within a few spins of each other on the same machine, same bet. You can see I only got about $10 down from where I landed from the first hit before getting the second. Winning $400 in about 30 seconds on a $1.76 bet is quite lovely, and happened the same day and at the same casino as my Buffalo Gold win on 60 cents, coming up next.
But as a dollar amount, $240 is where we start the official top 10 countdown, based on what I achieved at the casino this year.
The last, above, was the outcome of a bonus, but this was on 88 cents, so from a multiplier perspective it was technically the best of the three from that perspective. I chose the 10 spins option and managed a retrigger, which got things to where they were.
#9: Buffalo Gold
From a multiplier perspective this was quite a nice one to achieve. On a 60 cent bet, I got to 13 heads, lots of spins, and a 400x win. This bonus happened the same day I those two Rakin' Bacon line hits, but this kicked off the day.
But, as you'll see below, another Buffalo Gold machine treated me equally well on a higher bet, with a similar outcome.
#8 Whales of Cash
This beauty of a line hit happened while on my California portion of the fall trip I took out west, while I was at Agua Caliente Rancho Mirage. I've mentioned my love of Whales of Cash, and it's in no small part because there's all sorts of money in there if things line up just right.
In this case the reward was an almost 400x win. And if this line-up had happened in the bonus, where the whales are x4, it would've been a spectacular handpay.
#7 Triple Double Diamond
Here's another beautiful mechanical reel slot win I got this year, which continues to encourage me to seek them out. On this occasion, the reels came to a stop slower than normal, a fun tell on a machine of this vintage to let me know something special was happening.
The $540 win on 75 cents was a bankroll saver on what had been an overall mediocre day at the casino to that point. In fact, I had sought out the three quarter machines to slow down after a pretty tough period that visit, so it worked out quite well.
#6 Buffalo Gold Revolution
Similar to my previous win on Buffalo Gold earlier in the list, I had a 400x outcome bonus on its sequel, Buffalo Gold Revolution.
This particular win was unusual. I had hung out with friends while on my Vegas trip, headed back to my home hotel on the second to last day, and on my very first spin (note the balance) I got the bonus. I got tons of spins, once again reached 13 heads, and got a 400x win.
I've hit 13 heads a few times, but I've yet to reach 15. Someday!
#5: Da Ji Da Li Major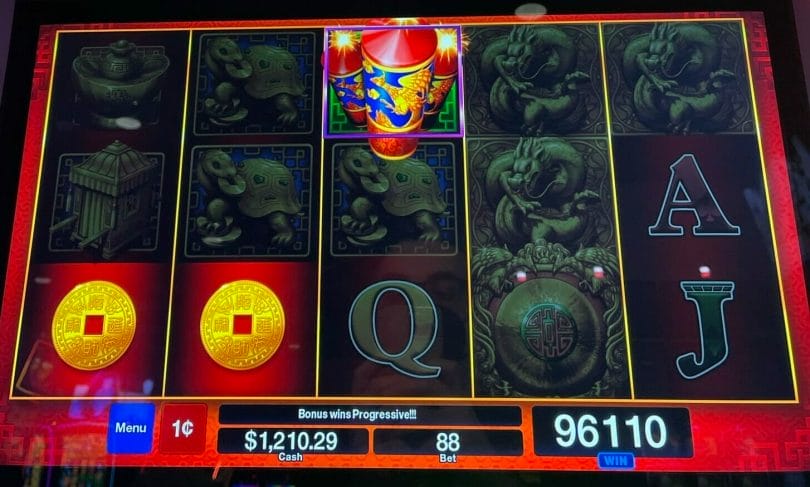 I've been giving AGS games a bit more of a shake this year, in part because I've been finding more of them I find fun. This one was grabbing my attention throughout my recent trip to Rocky Gap in Maryland, and it didn't take long after sitting down to get the progressive pick.
I did my swipe, and the machine didn't keep up with my picks, but then the bell rang. When the major progressive award popped up I moved so slowly I didn't get a shot of the Major on screen itself, but I have photos of the reset back to $800 on that progressive and of course the big win picture above. It was a phenomenal more than 1000x win and made my trip there a winning one nearly by default.
#4: Video Poker Royal Flush (Quarters)
For the third time, I got a royal flush at the quarters level on video poker. It was my second at MGM Springfield, and it was my first on free play. Until this year royal flushes were my top casino wins, so that shows you the kind of year I had.
After the royal flush my luck kept running well; in fact, the #1 spot on this list came from the end of the same night. But even in between I kept having good luck, both playing more video poker and then slots after that. It was a banner day, one we don't get all that often at casinos.
#3: Fire Buffalo (Online)
One of the surprises of the year for me was as I got to know the Connecticut iGaming options after they launched in October. From the beginning I found myself favoring Draft Kings for their superior setup, even as both casinos had virtually the same game libraries at launch.
Draft Kings would regularly offer small missions and bonuses. One of them was making a certain number of $5 wagers to get some free play (high for me, but as I've had good luck online this year – I'm still up significantly for the year online – I gave it a go).
A few spins in, I got the above, my second online handpay, and given it came in at #3 for the year, that meant I had three handpays this year. Aside from group pulls I had never had a handpay of my own before, so that was certainly a significant year for me. And interestingly, both of my handpays were on Everi mechanical reel style games.
#2: Blue Ribbon (Online)
My second best win of the year was another online slot played in Connecticut on Draft Kings, and the first of the two I secured. On a $2.25 bet, I lined up the three Double Jackpot symbols for a $1,250 jackpot.
I've gotten questions about how a jackpot works for online slots, and it worked basically the same as when you win one in a casino – you have to fill in the values they need to generate the paperwork, and you get a W2-G just like you do in a physical casino. The same $1,200 threshold on a single slot wager applies too.
#1: Gold Stacks 88 Turtle Kingdom by Aristocrat
My biggest win of the year was also my second major of the year, on Gold Stacks 88 Turtle Kingdom. I won this the same night as my royal flush in position 4 on the list, so that was a great casino trip, and the one that started the better times rolling for me this year.
I don't tend to bet $1.76 on the Gold Stacks 88 games as a rule, but having had won the Royal Flush on free play and having had a successful night overall, I decided to put $100 in because the mini was pretty high for this game. I figured I'd get the mini and go home, so when the progressive pick triggered, I swiped fast, just like I did for my Dancing Drums major a few years ago and my Da Ji Da Li major.
These bonuses on these progressive picks are generally predetermined so it doesn't matter, but it's been fun to get a few of these majors.
Of course, I kept going and knocked down the now even bigger mini a few spins later. That was like icing on the cake.
And a Group Pull Contribution Too
While not my own, it's fun to share as well. I took part in a large (for me) $1,000 group pull back in October at the Plaza, where we were doing $100 spins. I was assigned position 13, and had a bit of good fortune during that. It helped stabilize the group pull which is always a good thing. My section starts at 15:53:
How did you do this year? Anything memorable? Share in the comments!